New direction for Scorpio Bulkers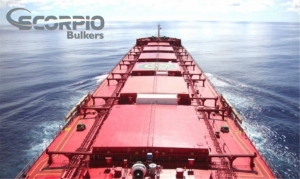 (Posted on 01/10/20)
Scorpio Bulkers, Inc. has announced that the Company has entered into an agreement with an unaffiliated third party to sell the SBI Rock, a 2016 built non-scrubber-fitted Kamsarmax vessel, for a price slightly in excess of $18 million. Delivery of the vessel is expected to take place in the fourth quarter of 2020. The sale is expected to generate additional liquidity of approximately $5 million. In addition, the Company will save approximately $1 million in budgeted drydocking costs during the first quarter of 2021.
Emanuele Lauro, Chairman and CEO, commented "Last month we announced a new direction for Scorpio Bulkers- offshore wind as a sustainable business opportunity. This sale represents a step, one of the many deliberate steps we must take, in our transition."
Scorpio Bulkers is a provider of marine transportation of dry bulk commodities, and is investing in the next generation of wind turbine installation vessels. Upon the completion of the sale of the vessel, Scorpio Bulkers Inc. will have an operating fleet of 53 vessels consisting of 48 wholly-owned or finance leased drybulk vessels (including 15 Kamsarmax vessels and 33 Ultramax vessels), and five time chartered-in Kamsarmax vessels. In addition to its dry bulk fleet, the Company has signed a letter of intent to enter into a shipbuilding contract with Daewoo Shipbuilding and Marine Engineering Inc. to build a wind turbine installation vessel to be delivered in 2023, with options to build three further similar vessels. The Company's owned and finance leased fleet will have a total carrying capacity of approximately 3.3 million dwt and all of the Company's owned and finance leased vessels will have carrying capacities of greater than 60,000 dwt.
Latest News
(Posted on 08/02/23)
The technology group Wärtsilä has successfully retrofitted an inline shaft generator system... Read more
(Posted on 08/02/23)
The operational performance of a vessel is set to be boosted with an innovative new digital solution... Read more
(Posted on 06/02/23)
Inland shipping construction yard Concordia Damen will deliver two 'CDS Dry Cargo 110' vessels to Amer... Read more
(Posted on 06/02/23)
A.M.Best Ratings Services Ltd has affirmed its Financial Strength Rating of A- (Excellent) and the Long... Read more
(Posted on 27/01/23)
ClassNK has issued an Approval in Principle (AiP) for a large ammonia fuelled 210,000 DWT bulk carrier... Read more
(Posted on 27/01/23)
Investors in middle aged dry bulk tonnage may be cheered by the impact of sustained higher recycled... Read more
(Posted on 27/01/23)
As one of the most important strategic maritime passages in the world, linking the Indian and Pacific... Read more
(Posted on 23/01/23)
OSM Maritime Group and Thome Group have agreed to a merger of the two companies. By joining forces,... Read more
(Posted on 23/01/23)
In a pivotal move aimed at further strengthening The Swedish Club's long-term position in the... Read more
(Posted on 16/01/23)
International crewing expert Danica Crewing Specialists now has a presence in Mumbai, boosting its recruitment... Read more