New digital advance delivers expert knowledge to bulk operators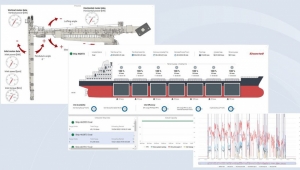 (Posted on 19/11/22)
Bruks Siwertell is developing an advanced digital tool, Siwertell Smartview, as part of an ongoing research and development (R&D) strategy. Designed to optimize the productivity and profitability of dry bulk handling operations, and deliver a better understanding of components through enhanced data analysis, the cloud-based tool is the latest industrial Internet of things (IIoT) system planned for integration into Siwertell technology.
"Siwertell Smartview will ultimately benefit both our existing as well as new customers," explains Per Hansson, Sales Director, Bruks Siwertell. "It is planned for a phased launch, starting in 2023, and will be initially introduced on new equipment deliveries."
Siwertell Smartview collects data during unloading and loading operations, enabling detailed analysis and follow-up of equipment performance, availability and reliability. Automated report functions ensure that operators are able to make the most of this information, including reports for each vessel handled, operational performance data and any equipment downtime.
The tool can monitor real-time operational parameters such as tons of material handled, average capacity, tons of material remaining in the vessel's holds during unloading, and the overall duration of operations. It is also able to identify areas that can be improved, enhancing efficiency and a terminal's potential profitability. Other parameters that can be analyzed include equipment availability, historical performance, and component data collection.
"The cloud-based portal brings Siwertell expertise much closer to our customers," Hansson continues. "Historical data analysis enables performance studies over different vessel types and sizes or commodities. Furthermore, reviewing the performance of different shifts can identify possible training needs. All enable the continuous improvement and optimization of our customers' terminals.
"Information can be simply accessed through a personal computer (PC), tablet or smartphone," he adds. "Initially, the tool was specifically designed to provide an accurate overview of unloading operations, helping customers rapidly identify any potential bottlenecks and therefore improve efficiency and availability. We soon realized that the IIoT system and its capabilities could be expanded to include much more."
Siwertell Smartview will also be able to provide digitally enhanced maintenance management. This includes everything from monitoring service intervals and remote support with assisted fault-tracing, up to a full service update. The next-generation tool is suitable for all Siwertell ship unloaders, including port-mobile and road-mobile units, and ship loaders.
Latest News
(Posted on 26/11/23)
VIKING Life-Saving Equipment, a global leader in maritime safety solutions, is launching an innovative... Read more
(Posted on 26/11/23)
Damen's client Gerdes Green has received a subsidy from the German Government for the investment... Read more
(Posted on 17/11/23)
A first of its kind training course for the Middle East has been held to teach mariners about the basic... Read more
(Posted on 13/11/23)
Wärtsilä ANCS, part of technology group Wärtsilä, has delivered to Seaspan, a marine... Read more
(Posted on 31/10/23)
The flag raising ceremony for three new ASD Tugs has taken place in Gdansk, Poland. In the presence... Read more
(Posted on 26/10/23)
A new immersive crane simulator that can recreate high-risk scenarios without putting drivers or other... Read more
(Posted on 23/10/23)
Vesto Ropes, a global leader in innovative steel wire-rope solutions, has announced a strategic partnership... Read more
(Posted on 23/10/23)
Bedeschi S.p.a. has been awarded a contract for the design and supply of a new longitudinal storage... Read more
(Posted on 18/10/23)
Rhenus Maritime Services (RMS) is adding a new coastal vessel to its fleet in the shape of the RMS Ruhrort... Read more
(Posted on 18/10/23)
Dualog, a leading maritime software provider, has introduced a major enhancement to the Dualog Drive... Read more