New coal carrier for NYK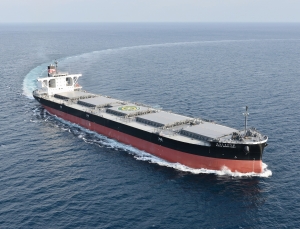 (Posted on 31/01/19)
A new coal carrier Pirika Mosiri Maru that NYK will own and operate to transport coal for Hokkaido Electric Power Co. Inc. (HEPCO), was delivered last week at Oshima Shipbuilding Co. Ltd. in Saikai city, Nagasaki prefecture, and a delivery ceremony was held on the same day. The event was attended by Akihiko Mayumi, president and director of HEPCO and NYK president Tadaaki Naito, among others.

Pirika Mosiri Maru, as the third generation ship, will take on the mission that has been handed down from the first-generation vessel named Sapporo Maru which was delivered in 1984 as HEPCO's first coal ship, and the second ship named Shin Sapporo Maru which was delivered in 2002 and played an important role by transporting coal for the company until recently. The new ship, named after Japan's indigenous Ainu language*, is registered in Tomakomai port of Hokkaido and will be assigned to transport coal from Australia and Indonesia to the Tomato-Atsuma Coal Power Station of HEPCO 's thermal power plant.

Pirika Mosiri Maru is equipped with the binary cycle power generation system unit produced for ships, an innovative system that utilizes exhaust heat from engine exhaust gas. The generated electric power will serve as auxiliary power and will reduce CO2 emissions by up to about 2 percent by decreasing fuel consumption.

In accordance with its new medium-term management plan "Staying Ahead 2022 with Digitalization and Green," the NYK Group aims to create sustainable value for the company and society, and continue its efforts to contribute to stable and economical transport of energy resources.
NYK Bulk and Projects operates various types of vessels, from those having a deadweight capacity of 9,000 tons to vessels reaching 60,000 tons. On these ships, they move various kinds of bulk cargoes — i.e., coal, copper concentrate, nickel, salt, cement, grain, fertilizer, logs, forest products, coke, manganese chromium steel, steel products, etc. and are also proactively developing bulk cargo transport in the offshore trade.
Latest News
(Posted on 20/03/23)
AXSMarine, a pioneer and market leader in the provision of advanced solutions for shipping professionals... Read more
(Posted on 20/03/23)
Shipzero is enabling transport and logistics companies to create transparency about their emissions... Read more
(Posted on 07/03/23)
The Isle of Man Ship Registry (IOMSR) has become an associate member of The International Association... Read more
(Posted on 07/03/23)
The wellbeing of crew members is becoming more important to shipping companies says leading catering... Read more
(Posted on 28/02/23)
Canada based Algoma Central Corporation has reported its results for the year ended 31 December, 2022... Read more
(Posted on 24/02/23)
Ukrainian seafarers have largely returned to international shipping thereby restoring balance in crew... Read more
(Posted on 24/02/23)
The Chairs of the Round Table of International Shipping Associations met in Athens last week to renew... Read more
(Posted on 21/02/23)
AXSMarine, a leading provider of SaaS shipping software and data for decision making in the chartering... Read more
(Posted on 20/02/23)
Algoma Central Corporation and The CSL Group, who together form the CSL International Pool have announced... Read more
(Posted on 20/02/23)
Swiss marine power company WinGD has launched a pilot project for a new engine diagnostics solution... Read more