New CM Labs training pack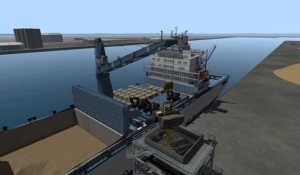 (Posted on 10/06/19)
CM Labs Simulations, developer of Vortex Port Equipment Training Simulators, will display their new Ship Pedestal Crane (SPC) Simulator Training Pack at TOC Europe 2019. The SPC Training Pack can run on any Vortex simulator, and helps operators acquire critical skills such as learning to "catch the swing" with different types of attachments, landing the spreader, and using cell guides to manoeuvre containers.
Progressive training exercises develop operator skills for handling bulk and breakbulk (including pipes, coils, bags, rebar, and steel plates) as well as container unloading (20 40, and 45-foot containers). Additional exercises cover lifting forklift and hatch covers.
When paired with CM Labs' Instructor operating station (IOS), trainers can expose operators to the types of variable conditions they will experience in the real world. Options include the ability to set time of day, as well as conditions including fog, and wind speed and direction. At any time, instructors can help operators train for unexpected occurrences, including snag loads, and mechanical failures.
Operating metrics such as cycle time, spilled material, collisions, and safety violations are all tracked by the IOS during training exercises, and rolled up into a single score that updates in real time. It is the only simulator training solution that gives trainers and managers the ability to customize this scoring system and establish their own benchmarks, if desired, according to the operator attributes they want to target.
The IOS also displays and captures a Container Path Tracing report in real time. This report indicates the trajectory of a load as it is manipulated by an operator, and provides instructors with a report that helps trainees understand how to achieve the optimal, most productive path.
"The SPC Simulator Training Pack addresses a critical training challenge for port terminals," says Seza Kouladjian, CM Labs' Product Manager. "Now, they are in a position to train operators and bring them up to production standards whether the actual equipment is available or not."
The Ship Pedestal Crane Training Pack incorporates powered by CM Labs' Smart Training TechnologyTM, resulting in a training tool that delivers the most transferable skills anywhere, outside of the real equipment. This leads to results such as those experienced by Flinders Adelaide Container Terminal (FACT), where trainees using the Vortex Port Equipment Simulator are meeting and exceeding required operational standards by 40%, says Tony Couzner, FACT Training Superintendent. "It's straight out of the sim, and into productive work on the real crane."
Along with the SPC Training Pack, CM Labs' catalogue of port terminal training solutions includes quay-side cranes (Megamax and Panamax STS Cranes, Mobile Harbour Crane), yard-side equipment (Internal Transfer Vehicle, Forklift, Rubber-tyred Gantry Crane, Straddle Carrier, Reach Stacker, and Empty Container Handler), as well as heavy equipment (Mobile Crane, Boom Truck Crane, Dozer, Excavator), and more.
Latest News
(Posted on 23/01/23)
KVH Managed Firewall and Cloud Email value-added services available to commercial fleets to enhance... Read more
(Posted on 23/01/23)
NAVTOR has been announced as the latest industry leader to join the Smart Maritime Network (SMN).The... Read more
(Posted on 16/01/23)
One Sea has welcomed intelligent navigation solutions provider, Orca AI, as the newest member of the... Read more
(Posted on 10/01/23)
Elcome International, a leading provider of maritime systems and integration solutions, is providing... Read more
(Posted on 10/01/23)
Corrosion Products & Equipment (CPE), a specialist engineering firm based in Rochester, New York... Read more
(Posted on 04/01/23)
Bruks Siwertell has secured a new Siwertell ship unloader contract from cement and ready-mix concrete... Read more
(Posted on 23/12/22)
Superior Industries, Inc., a US-based manufacturer and global supplier of bulk material processing and... Read more
(Posted on 23/12/22)
Bruks Siwertell has received an order from Hallet Capital Pty Ltd for a Siwertell ship unloader. It... Read more
(Posted on 20/12/22)
One Sea has welcomed South Korea's Avikus as its latest member, consolidating its position as... Read more
(Posted on 20/12/22)
Cargotec CEO Mika Vehviläinen has informed Cargotec's Board of Directors of his intention... Read more