New CEO for Lauritzen Bulkers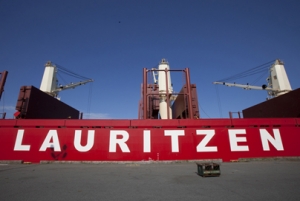 (Posted on 24/10/18)
J. Lauritzen has announced the appointment of Niels Josefsen as CEO of Lauritzen Bulkers.
Niels Josefsen will take the reins from Thomas Wøidemann, Chief Operating Officer (COO), who since March 2017 has been responsible for the commercial and operational activities of both Lauritzen Bulkers and Lauritzen Kosan.
"Thomas Wøidemann has done an outstanding job as head of both our business units over the last 20 months. In particular, he has set the direction and strategy for our dry cargo activities, enabling Lauritzen Bulkers to benefit from the improvement in market conditions. He will now devote his considerable talent to Lauritzen Kosan whilst Niels Josefsen does the same for Lauritzen Bulkers."
"Each business will have a leader with a sole focus on fulfilling the potential of the very interesting development opportunities we see in both the gas carrier and dry cargo markets at the moment and our ambition to grow our businesses," said Mads P. Zacho, CEO of J. Lauritzen.
Niels Josefsen has held various managerial positions in A. P. Moller-Maersk in Denmark and China, and for Klaveness in China, Singapore and Norway.
"Josefsen brings solid experience having spent more than 30 years in the dry cargo industry. I am sure that through his leadership we will be able to further leverage Lauritzen Bulkers' already strong market reputation", adds Zacho.
Josefsen will take over his new position on 1 December 2018. Both Wøidemann and Josefsen will be reporting to Mads P. Zacho.
Josefsen (56) served as a deck officer in A. P. Moller-Maersk before he embarked on a commercial career with Maersk Bulk in Copenhagen and Beijing (1987-2003). From 2003 until 2015 he worked for Klaveness in Asia based in Beijing and Singapore. Since 2015 Josefsen has been Executive Vice President and head of dry bulk for the Torvald Klaveness Group, based in Norway.
Latest News
(Posted on 27/09/23)
As the global shipping industry today celebrates World Maritime Day with its central theme of &ldquo... Read more
(Posted on 26/09/23)
Leading provider of secure maritime data communications software, GTMaritime, has reached 15,000 installations... Read more
(Posted on 26/09/23)
Posidonia Exhibitions, organisers of Posidonia, the International Shipping Exhibition, is launching... Read more
(Posted on 19/09/23)
Seven months after its formal launch, NorthStandard is already realizing tangible benefits from combining... Read more
(Posted on 12/09/23)
Maritime nuclear technology company CORE POWER has boosted its Global Advisory Board with four new high... Read more
(Posted on 12/09/23)
Foreship has relocated its UK subsidiary to larger premises and appointed Tuur Killaars as Senior Sustainability... Read more
(Posted on 08/09/23)
Classification society DNV has signed a Memorandum of Understanding (MoU) with Singapore-based ship... Read more
(Posted on 08/09/23)
Leading blended learning provider Intelligent Seas Group (ISG) is delighted to announce its collaboration... Read more
(Posted on 04/09/23)
Record year-on-year declines in rainfall has been identified as the 'likely culprit' for... Read more
(Posted on 04/09/23)
After years of keeping a vital navigation service operating on the same income, Middle East Navigation... Read more