New Arctic safety guidelines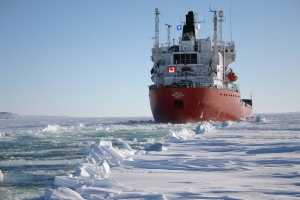 (Posted on 11/11/19)
Maritime trade between Arctic destinations and the rest of the world is expected to expand and an increasing number of ships are now undertaking voyages in polar waters. Technical developments in ship design and equipment continue to facilitate more and more ship operations in remote polar areas, despite challenging and unpredictable sea and weather conditions.
The International Code for Ships Operating in Polar Waters (Polar Code), adopted by the UN International Maritime Organization (IMO), requires shipping companies intending to operate in polar waters to develop a Polar Water Operational Manual (PWOM) in order for their ships to be issued with a Polar Ship Certificate.
New joint guidelines from the International Chamber of Shipping (ICS) and the Oil Companies International Marine Forum (OCIMF) aim to support shipping companies by providing advice on how to develop a PWOM that best suits their needs.
Appendix II of the IMO Polar Code already provides a model PWOM. ICS and OCIMF have recognised that additional guidance is necessary to help shipping companies to develop a quality PWOM that is truly fit for purpose.
In extreme conditions, and especially in ice, the way in which a ship is operated is critical for safety and environmental protection.
The purpose of the new Guidelines is to provide the means for shipping companies and Masters to develop a comprehensive PWOM tailored to the needs of their individual ships, taking into account the environmental hazards and the nature of their operations.
Guidelines for the Development of a Polar Water Operational Manual has been prepared by expert contributors with in-depth experience of operating ships in polar waters, as well as knowledge of the challenges faced by seafarers on board.
Topics addressed include: identifying hazards; understanding operational limitations; updating procedures; upgrading equipment and systems; understanding relevant legislation and ensuring that the results of assessments are fully addressed in the PWOM.
Available free of charge, the ICS/OCIMF Guidelines can be downloaded from the ICS and OCIMF websites and the Arctic Shipping Best Practice Information Forum (ASBPIF) web portal.
Latest News
(Posted on 07/12/23)
ClassNK has issued Approvals in Principle (AiPs) for four cutting-edge ship designs developed by Marine... Read more
(Posted on 07/12/23)
A smartship partnership bringing together ship management company Laskaridis Shipping, digital technology... Read more
(Posted on 07/12/23)
ABB has launched a new digital tool allowing shipowners, operators and designers to estimate the emission... Read more
(Posted on 03/12/23)
The Dry Bulk and LNG segments have borne the brunt of restricted transits, particularly due to their... Read more
(Posted on 03/12/23)
Columbia Shipmanagement (CSM) is set to further boost operational efficiency on its vessels, as crew... Read more
(Posted on 26/11/23)
Shi.E.L.D. Services has selected Spinergie as its preferred digitized solution provider to monitor and... Read more
(Posted on 26/11/23)
Thousands of cadets and trainees in India will benefit from in-depth wellness training and support thanks... Read more
(Posted on 17/11/23)
As shipping continues its journey to decarbonisation, INTERCARGO will host a special forum in Athens... Read more
(Posted on 13/11/23)
INTERCARGO was deeply saddened and concerned to hear of the reported appalling missile attack on the... Read more
(Posted on 13/11/23)
A new-look Wellness at Sea Awareness Campaign for seafarers, their families and shore staff that &ldquo... Read more