Montreal and Trois-Rivières agree cooperation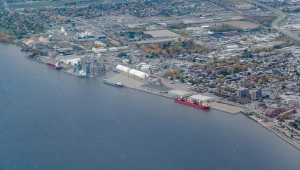 (Posted on 19/12/18)
The port authorities of Montreal and Trois-Rivières are pleased to announce the ratification of a first-ever Cooperation Agreement to improve and enhance their respective port services.
Focused on sharing information and intelligence and exchanging best practices, the agreement signed between the two ports will ultimately make it possible to increase the productivity, competitiveness, efficiency and safety of port services and procedures. Four work pillars are targeted under this agreement:
- Marine operations
- Environmental management
- Port logistics
- Port/city relations
The Port of Trois Rivières offers a wide range of facilities and services to the marine industry at all seasons. It is an important player in economic development at the regional, national and international levels for major industrial sectors such as aluminum, forestry and agri-food. The Port of Montreal is the second-largest port in Canada and a diversified transshipment centre that handles all types of goods: containerised and non-containerized cargo, liquid bulk and dry bulk.
The two ports are now exploring how to jointly implement innovative approaches. This agreement extends and structures longstanding collaborative efforts between the two port authorities, united by shared values and a common trade area.
"As a gateway to the heart of North America, the St. Lawrence is an undeniable strategic advantage for Canada and Quebec. The partnership we are signing today will make it possible to coordinate our efforts to increase the competitiveness of the St. Lawrence, a vital link in the growth of our two ports in a highly competitive global context," said Gaétan Boivin, President and CEO of the Trois-Rivières Port Authority. He also specified that this partnership is a concrete component of the TRPA's On Course for 2030 development plan.
"We are signing cooperation agreements with other ports around the world to combine our strengths and strategies to boost port performance. Doing so with a neighbouring port sharing the same strategic vision of our activities and services, and with sustainable development as a cornerstone, can only be a win-win," said Sylvie Vachon, President and CEO of the MPA.
Latest News
(Posted on 27/01/23)
In addition to helping its 12 member ports decarbonize, the World Ports Climate Action Program (WPCAP... Read more
(Posted on 27/01/23)
The first ship of the year, M/V Cape Alexandros, arrived at 11:00 a.m. on January 4, 2023, from Rotterdam... Read more
(Posted on 27/01/23)
AD Ports Group the leading facilitator of global trade, logistics, and industry, has signed a Memorandum... Read more
(Posted on 23/01/23)
In the presence of the UAE President His Highness Sheikh Mohamed bin Zayed Al Nahyan, and the President... Read more
(Posted on 16/01/23)
The Port of South Louisiana (Port SL) CEO Paul Matthews, has announced that it has entered into a Purchase... Read more
(Posted on 16/01/23)
With 73.6 million tons of cargo transhipment from maritime shipping (+7%) and 64.5 million tons from... Read more
(Posted on 12/01/23)
Despite unfavourable economic conditions, traffic in the port of Dunkerque, the third largest port in... Read more
(Posted on 10/01/23)
North Sea Port CEO Daan Schalck has been looking back as well as forward. 2022, was a year in which... Read more
(Posted on 10/01/23)
A multi-million-pound deal has been agreed to build a new road salt storage facility to support Scotland... Read more
(Posted on 10/01/23)
Ports Minister Rita Saffioti has announced Samuel McSkimming as the new CEO of the Pilbara Ports Authority... Read more