Milwaukee cargo volume grows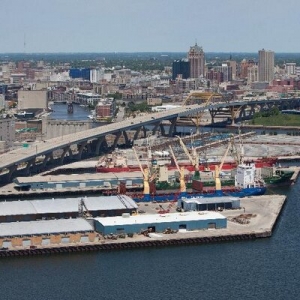 (Posted on 26/02/19)
Port Milwaukee posted significant gains in cargo movement through the St. Lawrence Seaway in 2018, an indication that international trade disputes have not, as yet, had a major impact on the amount of overseas cargo moving through the port.
Port Director Adam Schlicht presented the 2018 cargo report to the Board of Harbour Commissioners where he shared that Seaway cargo – including raw material for manufacturers and agricultural products – was up 28% when compared to the previous year.
Overall cargo numbers were down 8%, a decline driven largely by reduced quantities of salt arriving at Jones Island. A summer labour dispute at a major Canadian salt mine interrupted the stockpiling that typically occurs at Port Milwaukee.
"Salt volume was down by 18% last year, but during the first seven weeks of 2019, ships have delivered salt weekly to Milwaukee," Director Schlicht said. "Port Milwaukee has remained accessible to our shipping and rail customers through the coldest parts of winter, and we are optimistic that 2019 volumes will rebound, finishing ahead of last year."
Among the commodities contributing to the port's strong cargo numbers were cement, steel used in manufacturing, and Wisconsin-grown grain. The Port also saw increased use of its liquid cargo pier.
Port Milwaukee is an economic entity of City government governed by the seven-member Board of Harbour Commissioners, a panel appointed by Mayor Tom Barrett and confirmed by the Common Council. It administers operations on the 467 acres that make up the Port. It promotes shipping and commerce throughout the region by providing access to domestic and international ships, rail, and over-the-road transportation.
Port Milwaukee offers an operational flexibility unique to the western Great Lakes and the inland waterway system. Terminals designed for the efficient handling of dry and liquid bulk, general and project cargoes, roll on/ roll off, containers, and heavy lifts in excess of two hundred tons, provide vessel owners and cargo interests with safe, efficient and cost effective cargo handling services.
Port Milwaukee has devoted over 50 acres (20.24 hectares) to dry bulk storage and handling facilities, including four storage domes totalling 50,000 tons of storage. Much of the ground storage is paved. Additional acreage is available for dry bulk storage. Dry bulk handling services include storage and stock piling, direct transfer truck/rail/barge, vessel loading and unloading, packaging, palletizing and processing. Kinder Morgan is the Port's bulk stevedore and handles a wide variety of dry bulk materials including salt, construction aggregates, coal, and fertilizers.
The Port provides over 330,000 square feet of covered warehouse space for bulk, steel and general cargoes, including 30,000 square feet (2,800 square meters) of heated space. All facilities are steel frame buildings with brick/aluminum exteriors. All general cargo piers are paved with concrete and asphalt and each is rail served. Total general cargo facility exceeds 20 acres (8.1 hectares), plus additional backup storage as needed.
Latest News
(Posted on 05/06/23)
Peel Ports Group is investing £28 million on a new facility at the Port of Liverpool in its biggest... Read more
(Posted on 02/06/23)
Vancouver Fraser Port Authority CEO Robin Silvester has announced that he will be leaving the port authority... Read more
(Posted on 31/05/23)
AD Ports Group , the Abu Dhabi based leading facilitator of global trade, logistics and industry, has... Read more
(Posted on 31/05/23)
The World Port Climate Action Program (WPCAP) will be extended with a new focus on shore power, new... Read more
(Posted on 30/05/23)
Ships sailing from the North Sea via the Westerschelde to unload dry bulk goods at OVET's quay in Vlissingen... Read more
(Posted on 23/05/23)
The problematic trend in the world economy is affecting Port of Hamburg throughput figures. As in other... Read more
(Posted on 23/05/23)
A senior delegation from United Arab Emirates (UAE) visited Karachi and met with H.E. Faisal Sabzwari... Read more
(Posted on 16/05/23)
Two new electric harbour cranes, representing an £8.6 million investment, are the latest arrivals... Read more
(Posted on 14/05/23)
At a ceremony held during the transport logistic trade fair in Munich, Algis Latakas, General Director... Read more
(Posted on 08/05/23)
Associated British Ports (ABP's) Port of Ipswich, the UK's leading grain export port, has... Read more