Methanol retrofit solutions to be developed for medium-speed engines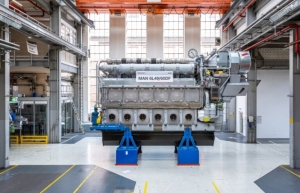 (Posted on 25/07/23)
MAN Energy Solutions has announced that it will begin developing retrofit solutions for medium-speed marine engines as part of a research association including WTZ Roßlau gGmbh and TU-Darmstadt. The three-year research project, 'CliNeR-ECo', is funded by the German Federal Ministry for Economic Affairs and Climate Action (BMWK) with initial work having already commenced at the beginning of 2023.
CliNeR-ECo aims to develop concepts for diverse, medium-speed, marine engines that will enable the retrofitting of entire ship fleets at reasonable economic and technical costs. The project is focusing on the climate-neutral fuel, methanol, which is produced from green hydrogen with the intention being that results should quickly spawn other developmental projects for series production. In this respect, MAN Energy Solutions is currently planning a first retrofit project based on an MAN 48/60 engine; the first retrofit of a fully functional test engine is scheduled to reach the testbed in 2024.
With these maritime retrofit technologies, ship owners will be offered solutions that enable their existing fleets to comply with future emission targets for greenhouse gases. These will be introduced by the International Maritime Organization (IMO) and the EU in increasingly stringent stages from 2025 onwards in order to ultimately realise climate-neutral maritime shipping.
Dr Alexander Knafl, Head of R&D Four-Stroke Engines at MAN Energy Solutions in Augsburg, said: "MAN Energy Solutions is pursuing this project in close alignment with its own strategy for developing sustainable technologies and welcomes the opportunity to work with external research partners. For us, the path to the decarbonisation of the maritime economy begins with the switch to climate-neutral fuels. In this context, methanol is an excellent candidate as it is climate-neutral when produced from green hydrogen."
Christian Kunkel, Head of Combustion Development, R&D Four-Stroke Engines at MAN Energy Solutions, added: "Electrification of the maritime industry is only possible in niche segments but not in so-called 'long-distance shipping'. Energy sources such as carbon-neutral methanol and ammonia will therefore play a prominent role in the maritime sector in the future. Methanol is an ideal fuel for converting engines on existing ships and methanol tanks can usually be integrated into existing ship designs without too much trouble, while engine conversion costs can be kept within reasonable limits. Thus, with climate-neutral methanol production, the climate effect of the maritime industry can be improved very quickly while dispensing with the need for newbuilding construction. This is a crucial point as ship lifespans can last several decades in some cases and newbuildings demand a lot of resources."
Dr Christian Reiser, CEO of WTZ Roßlau gGmbH, said: "Together with our partners, we are pleased to launch this ambitious project for CO2 reduction in shipping. The development of a retrofit-capable, methanol-combustion process presents us with exciting challenges, which we will solve together in this strong alliance."
Prof. Dr.-Ing. Christian Hasse, Head of the Department of Simulation of Reactive Thermo-Fluid Systems at TU Darmstadt, commented, "Carbon-neutral and carbon-free fuels play a prominent role in our current research with methanol as a fuel for retrofitting marine engines playing a special role. The investigation of mixtures is, scientifically, highly exciting and directly related to the technical solution we will eventually develop. Ultimately, we will gain new insights into the dynamics of flow, injection and their interaction with the combustion chamber walls by combining high-resolution simulations and optical measurement techniques. This transfer of basic research into practical application is a strength of engineering research."
Latest News
(Posted on 07/12/23)
In an initiative set to be transformational for ship design while protecting the oceans from pollution... Read more
(Posted on 03/12/23)
Ship design, particularly the design of bulk carriers, presents particular challenges when it comes... Read more
(Posted on 26/11/23)
VIKING Life-Saving Equipment, a global leader in maritime safety solutions, is launching an innovative... Read more
(Posted on 26/11/23)
Damen's client Gerdes Green has received a subsidy from the German Government for the investment... Read more
(Posted on 17/11/23)
A first of its kind training course for the Middle East has been held to teach mariners about the basic... Read more
(Posted on 13/11/23)
Wärtsilä ANCS, part of technology group Wärtsilä, has delivered to Seaspan, a marine... Read more
(Posted on 31/10/23)
The flag raising ceremony for three new ASD Tugs has taken place in Gdansk, Poland. In the presence... Read more
(Posted on 26/10/23)
A new immersive crane simulator that can recreate high-risk scenarios without putting drivers or other... Read more
(Posted on 23/10/23)
Vesto Ropes, a global leader in innovative steel wire-rope solutions, has announced a strategic partnership... Read more
(Posted on 23/10/23)
Bedeschi S.p.a. has been awarded a contract for the design and supply of a new longitudinal storage... Read more