Marmedsa consolidates Algerian leadership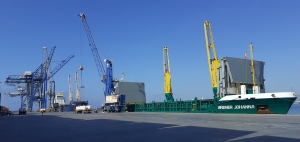 (Posted on 06/07/20)
Three ships operated by the shipping company TransMed Express (TME) with the shipping agents Marmedsa Noatum Maritime and Marmedsa Bemarine, which both belong to the Noatum group, carried out three simultaneous loading and unloading operations in the ports of Castellón and Bejaia (Algeria) on 22 June.
Noatum is a leading multinational group in transport, comprehensive logistics and port operations services.
Its work is divided into three main business areas: Noatum Maritime, focusing on providing maritime services; Noatum Logistics, a comprehensive logistics operator, and Noatum Terminals, port operations division.
The vessels MV Herbeira and MV Bremer Johanna loaded their goods at the Noatum port terminal in the port of Castellón, and the third ship, the MV Sonreiras, unloaded in the port of Bejaia (Algeria).
These ships, which are operating on a rotating basis as temporary replacements for the MV Caribana Express which is undergoing maintenance, show the strength of TransMed Express in this traffic, and the support that the Noatum group can provide in this service. In total, the combined operations involved multiple conventional shipments and containerised cargo.
"Operations like this one show our clients that at Noatum we can offer multiple comprehensive solutions for transporting all types of goods between Spain and Algeria, with highly professionalised management in all the services we provide," says Rafael Soler, Regional Director of the Levante area of Noatum Maritime, and the manager of TME in the Noatum group.
The three ships were operated by Transbulk Shipping, whose general agent is Marmedsa, which has extensive experience and is well equipped to handle Intra-Med traffic.
The sales teams of Marmedsa Castellón, Valencia and Algiers, and the entire operations team of Marmedsa, Noatum Terminals and Marmedsa Bemarine in Castellón, Bejaia and Algiers have worked together successfully on the smooth running of these and other port calls in recent weeks.
Latest News
(Posted on 26/11/23)
A 194 million euro investment in North Sea Port will secure large-scale CO2 reduction by the largest... Read more
(Posted on 17/11/23)
The Central Association of German Seaport Operators (ZDS) has called for a decisive German port policy... Read more
(Posted on 13/11/23)
A groundbreaking feasibility study has highlighted the potential for using clean ammonia to refuel ships... Read more
(Posted on 05/11/23)
IAPH has announced the ratification by the IAPH Council of the new IAPH Board. The Board is formed by... Read more
(Posted on 05/11/23)
CN has announced that it acquired from Genesee & Wyoming Inc., a stake in the Cape Breton &... Read more
(Posted on 31/10/23)
Due to continued very high inflation, the Hamburg Port Authority (HPA) will raise port fees by an average... Read more
(Posted on 31/10/23)
The UK's leading ports group, Associated British Ports (ABP), has appointed Jeff Gibb as Lead... Read more
(Posted on 26/10/23)
In the first nine months of 2023, there was 6% less throughput in the port of Rotterdam: 329.9 million... Read more
(Posted on 26/10/23)
After nine months, the total throughput of Port of Antwerp-Bruges was 204.4 million tonnes, a drop of... Read more
(Posted on 19/10/23)
LOGISTEC Corporation have announced that it has entered into an arrangement agreement with 1443373... Read more