Marfin goes solar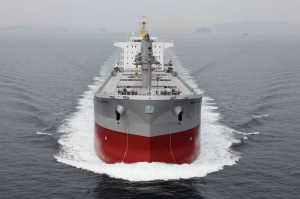 (Posted on 31/07/19)
Dry Bulk operator Marfin Management and Solar Panel specialists Solbian have announced the introduction of a first solar installation on a bulk carrier ship. This system has been installed on Paolo Topic vessel, a bulk carrier, managed by Marfin Management S.A.M. The project was officialised with the signature of an agreement on 8th July, in Montecarlo, Principality of Monaco.
The innovative installation originated by the joint work of the two companies together with TGE S.r.l., an Italian company specialized in the realization of solar plants. Special attention has been devoted in fitting the solar panels on the ship structure without creating fixed constraints to the load and unload operations. At this sake, a special removable structure was realized. The goal of this first prototype will be to assess the solar production, bearing in mind the idea of a future integration of solar with the hybridization of the three diesel genset, which until now were the only source of electric power on the ship.
The seamless integration of engines, batteries, solar panels and power distribution, overall controlled by a dedicated Energy Management System (EMS), will ensure M/S Paolo Topic a new level of competitiveness. A drastic reduction in fuel consumption and maintenance expenses, combined with the most advanced level of environmental performances, will make of M/S Paolo Topic the most technological advanced bulk carrier currently present in the world fleet. In addition to that, operation stability and increased efficiency will be ensured in all operation conditions including loading and unloading.
"We are pleased to have found like-minded partners to bring new technology and innovative thinking onboard to help improve our environmental performance leading the way towards a more sustainable future. We will be able to provide our customers and partners, the most advanced vessel's performances and environmental quality without compromising on operation effectiveness and flexibility" says Alex Albertini, CEO at Marfin Management.
"With our unique technology, we are pleased to participate in an adventure with real impact capable to disrupt some fundamentals allowing for change." Luca Bonci CEO at Solbian Energie Alternative S.r.l.
Latest News
(Posted on 03/12/23)
The Dry Bulk and LNG segments have borne the brunt of restricted transits, particularly due to their... Read more
(Posted on 03/12/23)
Columbia Shipmanagement (CSM) is set to further boost operational efficiency on its vessels, as crew... Read more
(Posted on 26/11/23)
Shi.E.L.D. Services has selected Spinergie as its preferred digitized solution provider to monitor and... Read more
(Posted on 26/11/23)
Thousands of cadets and trainees in India will benefit from in-depth wellness training and support thanks... Read more
(Posted on 17/11/23)
As shipping continues its journey to decarbonisation, INTERCARGO will host a special forum in Athens... Read more
(Posted on 13/11/23)
INTERCARGO was deeply saddened and concerned to hear of the reported appalling missile attack on the... Read more
(Posted on 13/11/23)
A new-look Wellness at Sea Awareness Campaign for seafarers, their families and shore staff that &ldquo... Read more
(Posted on 05/11/23)
Classification society DNV has entered into a Joint Development Project (JDP) with AL Group and its... Read more
(Posted on 31/10/23)
Samsung Heavy Industries (SHI) and leading classification society DNV have inked a Memorandum of Understanding... Read more
(Posted on 31/10/23)
WISTA International, during its Annual General Meeting (AGM) held in Montevideo, Uruguay, on 25 October... Read more