Major Wärtsilä role in environmental EU project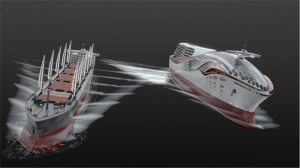 (Posted on 25/01/21)
The technology group Wärtsilä, as part of a consortium led by the University of Vaasa in Finland, will play a major role in an important project aimed at reducing the environmental impact of shipping. Project CHEK – deCarbonising sHipping by Enabling Key technology symbiosis on real vessel concept designs, has been granted funding of EUR 10 million by the EU as part of its Horizon 2020 research and innovation programme.
In addition to the University of Vaasa and Wärtsilä, the other project partners are BAR Technologies, Cargill Ocean Transportation, Climeon, Deltamarin, Hasytec Electronics, Lloyds Register, MSC Cruises, Silverstream Technologies and World Maritime University.
The goal of the CHEK project is to reduce emissions from shipping through the integrated use of low-carbon energy forms and technologies. These include the use of hydrogen fuel, wind power, electric batteries, heat recovery, air lubrication, and new anti-fouling technology. Development work on the way by which vessels are designed and operated is also included.
The project will design two concept vessels; a bulk carrier, which will utilise sails to capture wind energy, and a cruise ship that will operate with a Wärtsilä designed engine running on hydrogen fuel. It is estimated that by combining new and innovative technologies, greenhouse gas emissions can be reduced by 99 percent, energy savings of up to 50 percent can be achieved, while black carbon emissions can be cut by more than 95 percent. Several key enabling technologies will be demonstrated in practice on actual operational ships.
"CHEK represents another significant step in Wärtsilä's commitment and efforts to decarbonise marine operations. There is no silver bullet to meeting the challenge of combating climate change, you need to exploit a number of parallel paths, and that's exactly what we are doing together with our partners here. What makes the project so exciting is that we are stretching what can be done," says Jonas Åkerman, Director of Research and Technology Development at Wärtsilä.
The project dovetails with Wärtsilä's extensive investments in developing an ecosystem of co-creation. The company's Smart Technology Hub in Vaasa is a new state-of-the-art innovation centre driving research, development, and production aimed at creating solutions for a more sustainable world. This initiative is complemented with Wärtsilä's Smart Partner Campus platform, where stakeholders are invited to participate in the co-creation of win-win solutions.
In addition to developing and testing the hydrogen engine, Wärtsilä's contributions to the project will include the following;
System integration for both vessels, including hybridisation, energy storage and shore power connections; Developing a modular fuel-flexible powertrain for reduced fuel consumption and optimum efficiency; Implementing the novel gate rudder system for enhanced manoeuvrability and better efficiency; and Route optimisation for the wind assisted bulker to take advantage of prevailing and forecasted wind conditions.
Wärtsilä is already well advanced in researching potential future 'clean' fuels capable of making a real contribution to decarbonising shipping operations.
Latest News
(Posted on 03/12/23)
Ship design, particularly the design of bulk carriers, presents particular challenges when it comes... Read more
(Posted on 26/11/23)
VIKING Life-Saving Equipment, a global leader in maritime safety solutions, is launching an innovative... Read more
(Posted on 26/11/23)
Damen's client Gerdes Green has received a subsidy from the German Government for the investment... Read more
(Posted on 17/11/23)
A first of its kind training course for the Middle East has been held to teach mariners about the basic... Read more
(Posted on 13/11/23)
Wärtsilä ANCS, part of technology group Wärtsilä, has delivered to Seaspan, a marine... Read more
(Posted on 31/10/23)
The flag raising ceremony for three new ASD Tugs has taken place in Gdansk, Poland. In the presence... Read more
(Posted on 26/10/23)
A new immersive crane simulator that can recreate high-risk scenarios without putting drivers or other... Read more
(Posted on 23/10/23)
Vesto Ropes, a global leader in innovative steel wire-rope solutions, has announced a strategic partnership... Read more
(Posted on 23/10/23)
Bedeschi S.p.a. has been awarded a contract for the design and supply of a new longitudinal storage... Read more
(Posted on 18/10/23)
Rhenus Maritime Services (RMS) is adding a new coastal vessel to its fleet in the shape of the RMS Ruhrort... Read more