LUKOIL shares lubricant experience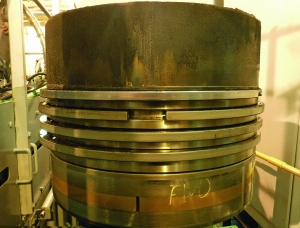 (Posted on 01/05/20)
After 100 days of VLSFO operation, LUKOIL Marine Lubricants is sharing recent experience on VLSFO operation with NAVIGO MCL Extra (40BN). This draws on learnings over the past few months as well as experience from the transition from HFO to distillate fuels in 2015 with NAVIGO MCL Ultra (20BN).
LUKOIL is the leading Russian company in oil exploration, production and refining, as well as marketing of petroleum products.
Using the right cylinder oil, such as NAVIGO MCL Extra with extra detergency, is only the first step to avoid excessive liner wear on VLSFO. Feed rate optimization is equally important for good engine condition, in combination with engine inspections and monitoring the wear metal content of drain oil samples. The feed rate optimization process involves Cylinder Scrapedown Analysis (CSA) at regular intervals, provided by LUKOIL as part of their OPTIMIZE program. The switch to VLSFO or between different VLSFO blends can still be challenging and requires careful attention.
The fuel that operators are switching from, the new fuel and how the transition is managed all play a major role in ensuring a smooth changeover. HFO is stable because it contains many polar hydrocarbons. Distillate fuels are non-polar and can cause instability in mixtures. Many ULSFO and VLSFO blends are such mixtures. When changing over from HFO to these fuels, the sludge, asphaltenes and cat fines which may have accumulated over time while on HFO can remain on the tank bottom and walls or in the fuel system unless these are fully cleaned or flushed as it was recommended before the transition to VLSFO.
This issue can be made worse because the ability of distillates, ULSFO and VLSFO to absorb cat fines and asphaltenes can cause them to be carried through to the filter, purifier and engine. Cat fine levels at the inlet to the main engine must be below 15 ppm, ideally below 8 ppm. Some ULSFO and VLSFO are treated with additives to improve their stability, but these further increase the fuel's absorbance and must be handled with care.
Mixing fuels can cause problems due to incompatibilities which cannot be completely avoided. Measures to manage this risk include; segregating the fuel qualities, minimizing mixing and monitoring filter, purifier and engine condition. Engine monitoring includes, for example, regular inspections and adjusting the feed rate where necessary, as well as regular laboratory analysis of scrape down samples.
Some 100 BN cylinder oils, such as NAVIGO 100 MCL, offer improved detergency. Therefore, in some cases high BN cylinder oil is used for a short time to counteract deposits in the engine. In the long run, however, using excessive BN with VLSFO will lead to deposits in the piston top land and ring pack, which can ultimately lead to scuffing and, consequently, loss of liners and off-hire of the vessel. By contrast, NAVIGO MCL Extra has detergency comparable to a 100 BN cylinder oil but a lower alkalinity or neutralization capacity (BN). This keeps the engine free of deposits without the risks of excessive BN. A sufficient feed rate is required to prevent scuffing.
Latest News
(Posted on 03/12/23)
The Dry Bulk and LNG segments have borne the brunt of restricted transits, particularly due to their... Read more
(Posted on 03/12/23)
Columbia Shipmanagement (CSM) is set to further boost operational efficiency on its vessels, as crew... Read more
(Posted on 26/11/23)
Shi.E.L.D. Services has selected Spinergie as its preferred digitized solution provider to monitor and... Read more
(Posted on 26/11/23)
Thousands of cadets and trainees in India will benefit from in-depth wellness training and support thanks... Read more
(Posted on 17/11/23)
As shipping continues its journey to decarbonisation, INTERCARGO will host a special forum in Athens... Read more
(Posted on 13/11/23)
INTERCARGO was deeply saddened and concerned to hear of the reported appalling missile attack on the... Read more
(Posted on 13/11/23)
A new-look Wellness at Sea Awareness Campaign for seafarers, their families and shore staff that &ldquo... Read more
(Posted on 05/11/23)
Classification society DNV has entered into a Joint Development Project (JDP) with AL Group and its... Read more
(Posted on 31/10/23)
Samsung Heavy Industries (SHI) and leading classification society DNV have inked a Memorandum of Understanding... Read more
(Posted on 31/10/23)
WISTA International, during its Annual General Meeting (AGM) held in Montevideo, Uruguay, on 25 October... Read more