Long Beach emissions fall even as cargo rises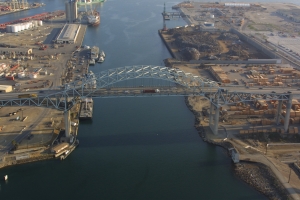 (Posted on 03/09/18)
The Port of Long Beach is continuing to outperform 2023 clean air goals for diesel particles and sulphur oxides, even while cargo volumes have jumped to record levels, according to a comprehensive study of Port-related air pollution emissions.
The 2017 annual "emissions inventory" found the Port's aggressive actions to curb pollution have cut diesel particulates by 88 percent, sulphur oxides by 97 percent and nitrogen oxides by 56 percent since 2005, the baseline year which emissions are measured against. The Port maintained lower levels of emissions even though container traffic rose 11 percent in 2017. The Clean Air Action Plan set 2023 reduction targets for diesel particulates at 77 percent, sulphur oxides at 93 percent and nitrogen oxides at 59 percent.
"The Port has already made dramatic reductions in emissions, but we will not be finished or satisfied until we achieve our community health, air quality, and long-term greenhouse gas reduction goals," said Long Beach Board of Harbor Commissioners President Tracy Egoscue. "We know we've picked the so-called low-hanging fruit. That's why the ambitious Clean Air Action Plan update passed last year leverages new technologies and fosters the development of new equipment to reach a zero-emissions goal in the terminals by 2030 and on the roads by 2035."
"What's especially impressive about these results is our container traffic has grown by more than 12 percent since 2005," said Port of Long Beach Executive Director Mario Cordero. "The Port's efficiency in moving containers measured by tons of emissions per twenty-foot equivalent unit has improved by 23 percent since 2005. We are moving more cargo and creating more jobs with lessened environmental impacts."
Greenhouse gases, which were not targeted for reduction in the original Clean Air Action Plan, were nevertheless curtailed by 18 percent in 2017 compared to 2005. However, the reduction is less than the 22 percent the previous year. Port officials attributed the change to increased cargo volumes and ship visits; however, the amount of greenhouse gas emissions per twenty-foot equivalent unit moved is down, as demonstrated by efficiency measurements in the emissions inventory.
The Port of Long Beach's efforts to improve air quality have included the Clean Trucks Program, the adoption of shore power for container ships and the Port's Green Flag Vessel Speed Reduction Program. Additionally, the Port's future Pier B On-Dock Rail Facility will be the centerpiece of a program to increase the use of on-dock rail for greener operations. Learn more about the Port's environmental programs here.
The annual emissions inventory is conducted by an independent consultant. It is reviewed by the U.S. Environmental Protection Agency, California Air Resources Board and the South Coast Air Quality Management District.
Latest News
(Posted on 05/06/23)
Peel Ports Group is investing £28 million on a new facility at the Port of Liverpool in its biggest... Read more
(Posted on 02/06/23)
Vancouver Fraser Port Authority CEO Robin Silvester has announced that he will be leaving the port authority... Read more
(Posted on 31/05/23)
AD Ports Group , the Abu Dhabi based leading facilitator of global trade, logistics and industry, has... Read more
(Posted on 31/05/23)
The World Port Climate Action Program (WPCAP) will be extended with a new focus on shore power, new... Read more
(Posted on 30/05/23)
Ships sailing from the North Sea via the Westerschelde to unload dry bulk goods at OVET's quay in Vlissingen... Read more
(Posted on 23/05/23)
The problematic trend in the world economy is affecting Port of Hamburg throughput figures. As in other... Read more
(Posted on 23/05/23)
A senior delegation from United Arab Emirates (UAE) visited Karachi and met with H.E. Faisal Sabzwari... Read more
(Posted on 16/05/23)
Two new electric harbour cranes, representing an £8.6 million investment, are the latest arrivals... Read more
(Posted on 14/05/23)
At a ceremony held during the transport logistic trade fair in Munich, Algis Latakas, General Director... Read more
(Posted on 08/05/23)
Associated British Ports (ABP's) Port of Ipswich, the UK's leading grain export port, has... Read more