Liebherr remains MHC market leader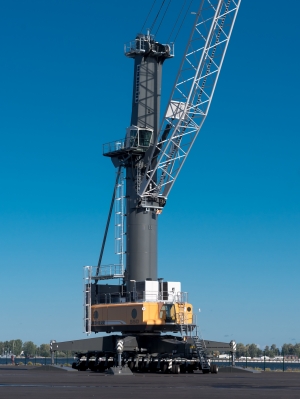 (Posted on 29/01/21)
Liebherr maritime cranes is looking back on the business year 2020 for their mobile harbour crane product segment.
At the beginning of 2020, Liebherr Mobile Harbour Cranes was able to rely on a strong order backlog, which was already built up in 2019. The first quarter of 2020 was also very positive with several incoming orders. At the beginning of the second quarter of 2020, a decline in orders was definitely noticeable. This was strongly linked to the global outbreak of SARSCoV-2 and the resulting global lockdown.
However, current projects were not cancelled but postponed. A certain amount of uncertainty was felt in the market, but in this never-before-seen situation, this behaviour was quite understandable and comprehensible. These delayed decisions led, positively speaking, to an extended summer break but not to a drastic downturn. In addition, Liebherr were able to maintain production operation in compliance with all the required hygiene rules and in constant communication with the local health authority. Suppliers have also been able to continue supplying the necessary parts during this period.
Despite the slight drop in sales in the course of the worldwide lockdown, equipment continued to operate at ports around the world. Although the flow of goods declined for a short time, ports are systemically important, so service and support from customer service continued to be in demand. The worldwide well-positioned Liebherr service network has helped a lot during this time and through local mixed sales companies, dealers and partners we are always on site at the customer's location.
The Mobile Harbour Crane market was lively throughout the entire period. With the beginning of the fourth quarter 2020, Liebherr also felt a substantial recovery. The company have sold LHM equipment on every continent in the 4th quarter 2020 and ended the year with an order intake slightly above the level of 2019. Andreas Müller, Sales Director of Liebherr mobile harbour cranes and reachstackers comments: "This means that Liebherr remains the market leader in the mobile harbour cranes segment. This development gives grounds for optimism and provides a good base to start in 2021. A stable order intake will be the goal and a challenge in the coming year - especially due to the restrictions imposed by the COVID-19 pandemic. If we manage to achieve this, we should also achieve an increase in sales compared to 2020 – all in all, a positive forecast."
Latest News
(Posted on 31/03/23)
Konecranes has won an order for two Konecranes Gottwald Cranes on Barge from Winning Logistics in Guinea... Read more
(Posted on 31/03/23)
Technology group Wärtsilä has introduced a new radical derating retrofit solution –... Read more
(Posted on 31/03/23)
Thomas Zanzinger, CEO of Ocean Technologies Group (OTG), outlined why he thought many maritime businesses... Read more
(Posted on 28/03/23)
DNV has enhanced its Alternative Fuels Insight (AFI) data platform as part of an effort to accelerate... Read more
(Posted on 24/03/23)
Bruks Siwertell has secured an order for a next-generation Siwertell road-mobile ship unloader, which... Read more
(Posted on 20/03/23)
Thordon Bearings is supplying its grease-free, self-lubricating ThorPlas-Blue bearing material to a... Read more
(Posted on 20/03/23)
French water treatment specialist BIO-UV Group has appointed Laurent-Emmanuel Migeon as its new Chairman... Read more
(Posted on 07/03/23)
With Wärtsilä's CII Dashboard, Anglo-Eastern is now able to make better informed decisions... Read more
(Posted on 07/03/23)
Bruks Siwertell has completed the commissioning of two large-scale Siwertell ST 790-D-type ship unloaders... Read more
(Posted on 28/02/23)
A consortium including technology group Wärtsilä has secured European Union funding to develop... Read more