Liebherr MHC at India's first multi-modal terminal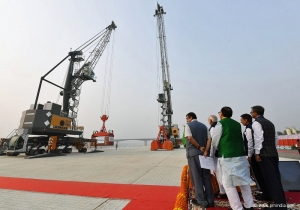 (Posted on 11/12/18)
Liebherr mobile harbour cranes are working on the first Indian inland waterway terminal in Varanasi. India's Prime Minister Narendra Modi officially inaugurated the newly developed port on the river Ganga.
Varanasi is located in northern India 780 kilometres east of the Indian capital Delhi, predominantly on the left bank of the Ganga, India's largest river. Mid November the first of four multi modal terminals being constructed on the river Ganga was officially inaugurated by Indians prime minister Narendra Modi. The port is part of the World Bank-aided Jal Marg Vikas project of the Inland Waterways Authority of India. Three other terminals are under construction at Sahibganj, Haldia and Gazipur. The project will enable commercial navigation of vessels with capacity of 1500-2,000 DWT on river Ganga.
India's first multi-modal terminal was official inaugurated by Prime Minister Narendra Modi.
The vessels arriving Varanasi via the river Ganga will be loaded and unloaded by Liebherr mobile harbour cranes type LHM 180. Both cranes were initially sold to Afcons Infrastructure Limited. Afcons is part of the Shapoorji Pallonji Group and is one of the top infrastructure development companies in India with its presence in various parts of the world. Both Liebherr mobile harbour cranes are running with a 390kW Liebherr diesel engine and provide a maximum lifting capacity of 64 tonnes in four-rope configuration. Whether it is containers, bulk or general cargoes, with a maximum outreach of 35 metres 2 / 2
The LHM 180 is the right handling solution for feeder and handysize ships sailing on the river Ganga.
"We feel honoured and proud to be part of this ground-breaking infrastructure project. Our cranes are extremely reliable and will clearly support the handling of goods in the port of Varanasi. We also hope that Liebherr cranes will be used for the efficient container handling of the other planned inland terminals in Sahibganj, Haldia and Gazipur", quotes Sunil Kalra, Divisional Head of the Maritime division of Liebherr India.
Latest News
(Posted on 19/09/23)
ClassNK has conducted third-party certification for the CO2 emissions reductions of "JGreeX&trade... Read more
(Posted on 12/09/23)
Charterers can save hundreds of thousands of dollars of unnecessary demurrage costs by drilling down... Read more
(Posted on 08/09/23)
Nippon Kaiji Kyokai (ClassNK) has joined the major classification societies to amend its rules relating... Read more
(Posted on 08/09/23)
On behalf of SLPLUS Holding and based on their trust in Feyz Group's operational capabilities,... Read more
(Posted on 08/09/23)
Leading corporate wellbeing provider OneCare Solutions (OCS) has launched the OneCare Solutions Mobile... Read more
(Posted on 04/09/23)
With CCS-Ready scrubbers now being sold at pace, Wärtsilä's studies across a range of... Read more
(Posted on 04/09/23)
German Ship Repair Jamaica Limited (GSRJ), a private joint venture of German, Turkish and Jamaican investors... Read more
(Posted on 28/08/23)
The 'clipboard, pen and paper' approach to creating Statement of Facts (SoF) documents is... Read more
(Posted on 21/08/23)
KVH Industries, Inc. has announced the completion of a three-year renewal of its satellite services... Read more
(Posted on 14/08/23)
KVH has announced its membership in ISWAN (The International Seafarers' Welfare and Assistance... Read more