Liebherr achieves €10bn turnover despite slowdown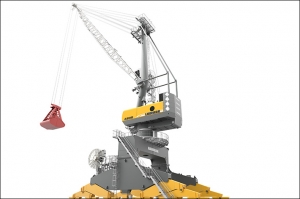 (Posted on 20/04/21)
In 2020, the Liebherr Group achieved a turnover of € 10,341 million. Compared to the previous year, the company posted a decline of € 1,409 million, or 12 %. Following several successful years, and in the context of last year's extraordinary conditions, this is considered satisfactory.
Despite the modest slowdown of the global economy, Liebherr registered a strong volume of orders in the first quarter of 2020. Starting at the end of the first quarter, the coronavirus pandemic began to affect business activities in many markets. This also had an impact on the Group's sales revenues. With the exception of Refrigeration and Freezing, every product segment experienced a decline in turnover.
Revenues in the Earthmoving, Material Handling Technology, Deep Foundation Machines, Mobile and Crawler Cranes, Tower Cranes, Concrete Technology and Mining product segments were 10.4 % lower than in the previous year at € 6,848 million. Revenues outside construction and mining machines also fell. With the other product segments, including Maritime Cranes, Aerospace and Transportation Systems, Gear Technology and Automation Systems, Refrigeration and Freezing, as well as Components and Hotels, Liebherr achieved a turnover of € 3,493 million, a 15 % decrease compared to the previous year.
There was a downturn in sales in the European Union, which has traditionally been the Group's strongest sales region. This was primarily due to declining sales in Germany and France; by contrast, business grew in Austria and Poland. Sales in non-EU countries as well as in North America also declined. Central and South America, Africa, and the Near and Middle East reported significantly lower turnover than the year before. Meanwhile, business was stable throughout the year in Asia and Oceania. This was thanks largely to strong demand from China and Australia.
In 2020, the Liebherr Group achieved a net profit for the year of € 7 million. Operating results and the financial result also fell compared to 2019. In view of the year's special challenges and extraordinary conditions, this can nevertheless be considered a success. Despite the significant decrease in turnover, the number of employees remained stable: At the end of 2020, Liebherr employed 47,925 people worldwide, that is just 124 employees fewer compared to the previous year.
As a high-tech company, the Liebherr Group pursues the goal of making a decisive contribution to shaping the technological progress in sectors relevant to the Group. Liebherr invested € 512 million in research and development last year. The bulk of this was used in the development of new products. A large number of joint research projects with universities, other higher education institutions and research institutes were initiated and continued. These research projects focused heavily on the topic of alternative drivetrain technologies. In 2020 Liebherr expanded its product portfolio with several fully and partially electric machines and components in product segments such as Mobile and Crawler Cranes, Concrete Technology, Mining and Aerospace and Transportation Systems.
Digitalisation was another focal point of R&D activities. With the help of the Liebherr Remote Service App, a LHM 420 mobile harbour crane was put to work in Argentina – remotely from Germany for the first time ever. In the Refrigeration and Freezing product segment, it is worth noting that smart monitoring allows for the monitoring of appliances with a web-based dashboard in research and laboratories.
Latest News
(Posted on 20/03/23)
Thordon Bearings is supplying its grease-free, self-lubricating ThorPlas-Blue bearing material to a... Read more
(Posted on 20/03/23)
French water treatment specialist BIO-UV Group has appointed Laurent-Emmanuel Migeon as its new Chairman... Read more
(Posted on 07/03/23)
With Wärtsilä's CII Dashboard, Anglo-Eastern is now able to make better informed decisions... Read more
(Posted on 07/03/23)
Bruks Siwertell has completed the commissioning of two large-scale Siwertell ST 790-D-type ship unloaders... Read more
(Posted on 28/02/23)
A consortium including technology group Wärtsilä has secured European Union funding to develop... Read more
(Posted on 28/02/23)
Bruks Siwertell has received an order for a next-generation Siwertell road-mobile ship unloader from... Read more
(Posted on 24/02/23)
Global Survival Technology solutions provider Survitec has introduced a new, formalised pre-inspection... Read more
(Posted on 24/02/23)
The slightest deviation in the machining, polishing, and finishing of ships' propeller blades... Read more
(Posted on 20/02/23)
Bühler expanded its business and improved profitability in an uncertain and volatile business environment... Read more
(Posted on 20/02/23)
Wärtsilä plans to further focus on end-to-end voyage optimisation and to move part of Voyage... Read more