Leading bulk shipping companies demonstrate collaboration is key to success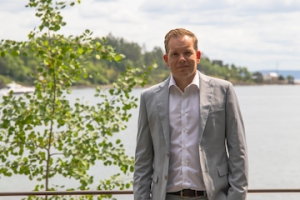 (Posted on 28/08/23)
Torvald Klaveness and Lauritzen Bulkers, leading global dry bulk shipping companies, have announced a collaboration move that sees Lauritzen Bulkers testing Market Manager by Klaveness for better decision-making.
Market Manager is a Software-as-a-Service (SaaS) platform crafted by Klaveness Chartering, incorporating extensive commercial expertise, and backed by a best-in-class research team. The platform enables customers to drive new value and make better informed decisions to navigate shipping markets.
Niels Josefsen, CEO at Lauritzen comments: "Over the past four years, Lauritzen Bulkers has transformed from a traditional ship owner and operator to a company with increasing focus on active portfolio management. We strive to refine our knowledge-based business model and data driven approach."
Michael Jørgensen, EVP and Head of Dry Bulk at Klaveness, adds: "We continue to challenge the status quo for better outcomes and if we can assist like-minded operators in achieving the same efficiencies, it is only natural we share it. Collaborating with Lauritzen and learning from their feedback will be a welcome inclusion to our development process."
As part of the Lauritzen Group, Lauritzen Bulkers is proud of its rich history within the shipping industry and the experience and craftsmanship delivered by employees throughout the past century. They continue to showcase capacity to adapt and transform into a modern shipping company - while remaining true to the company's heritage and core values. Lauritzen Bulkers is owned by Lauritzen Fonden, a commercial foundation contributing to various non-profit initiatives and focused on making a lasting impact within communities around the world.
Torvald Klaveness is a pioneering shipping company with a vision to improve the nature of shipping and ambition to make seaborne supply chains resilient, decarbonized, and cost-effective. The Group consist of a holding structure and four operating companies; through Klaveness Combination Carriers, the company takes an active part in the transition to low-carbon shipping with its unique combination carrier concept. Dry Bulk by Klaveness is a leading operator servicing the global dry bulk industry, they manage the world's largest Panamax Pool and Market Manager, a digital platform enabling clients to make data-driven freight decisions. Klaveness Ship Management manages the owned vessels from an environmental, technical, and commercial standpoint. Klaveness Digital has developed the world's leading platform for managing seaborne supply chains with CargoValue. The Holding team incorporates ZeroLab by Klaveness, our strategic arm incubating new products and business models to accelerate decarbonization of global shipping.
With over 75 years' experience, Klaveness operates some 100 vessels through offices in Oslo, Singapore, Manila, and Dubai with around 200 employees onshore and close to 850 seafarers.
Latest News
(Posted on 07/12/23)
ClassNK has issued Approvals in Principle (AiPs) for four cutting-edge ship designs developed by Marine... Read more
(Posted on 07/12/23)
A smartship partnership bringing together ship management company Laskaridis Shipping, digital technology... Read more
(Posted on 07/12/23)
ABB has launched a new digital tool allowing shipowners, operators and designers to estimate the emission... Read more
(Posted on 03/12/23)
The Dry Bulk and LNG segments have borne the brunt of restricted transits, particularly due to their... Read more
(Posted on 03/12/23)
Columbia Shipmanagement (CSM) is set to further boost operational efficiency on its vessels, as crew... Read more
(Posted on 26/11/23)
Shi.E.L.D. Services has selected Spinergie as its preferred digitized solution provider to monitor and... Read more
(Posted on 26/11/23)
Thousands of cadets and trainees in India will benefit from in-depth wellness training and support thanks... Read more
(Posted on 17/11/23)
As shipping continues its journey to decarbonisation, INTERCARGO will host a special forum in Athens... Read more
(Posted on 13/11/23)
INTERCARGO was deeply saddened and concerned to hear of the reported appalling missile attack on the... Read more
(Posted on 13/11/23)
A new-look Wellness at Sea Awareness Campaign for seafarers, their families and shore staff that &ldquo... Read more