Le Havre revitalises multi-bulk terminal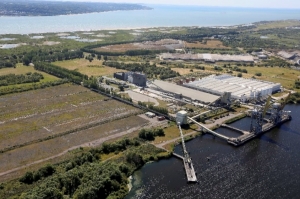 (Posted on 05/01/21)
The Port of Le Havre's Supervisory Board has awarded a concession for the construction and operation of a dry bulk terminal to the company LORANY CONSEILS. This project reflects the ambitions and strategy of Le Havre Port for the development of this category of traffic, which is currently expanding rapidly on the Seine Axis.
With an ideal location on the southern bank of Le Havre's Grand Canal, the multi-bulk terminal has been free of occupants since May 2019. The 20-year concession granted to LORANY relates to twin goals set by the Port for value-added from port real estate and industry:
- To propose without delay solutions for the development and expansion of clinker traffic,
- To propose competitive solutions for other types of dry bulk: grain, ore, construction materials, earth and sediment, and more.
The industrial resource to be developed on a potential area of 14 hectares will be able to resume activity as early as summer 2021. It is designed to process over 400,000 tonnes of goods from the first year of operation and to exceed a million tonnes of maritime and river traffic by its tenth year.
A facility for the reception and recycling of earth and sediment is also planned, eventually leading to annual maritime and river traffic of 270,000 tonnes. A project for slag imports is also currently under way, as is the creation of a concrete production plant based exclusively on recycled materials.
"The resumption of multi-bulk operations is the outcome of shared, coordinated effort alongside the various port complexes along the Seine Axis", Baptiste Maurand, Le Havre Port's CEO, explains, adding that "our coordinated approach with the ports of Rouen and Paris is in fact aimed at the joint construction of an axis strategy based around dry bulk, covering not only activities now being developed in the port but also the potential represented by an industrial resource of this kind."
A reminder of the major advantages of Le Havre's multi-bulk centre: water depth guaranteed to exceed 16 metres, allowing all vessel types to be processed, a convenient river connection to the Seine Axis industrial basin, connections to national rail lines and direct access to the expressway network. In addition, the terminal is adjacent to available land just back from the facility, thus offering a possibility of development of high-performance industrial activities possibly focused on sustainable development and the environment.
Being a member of HAROPA, the number one French port system, together with the ports of Rouen and Paris, Port of Le Havre offers an easy and fast gateway to all continents for all world major shipping lines with around 700 ports of call. As one of the biggest European port systems, HAROPA has about 500 hectares of available land and estate reserves along the Seine corridor. It helps its customers setting up and managing competitive and sustainable logistics systems to serve the N° 1 European consumer basin with 25 million inhabitants.
Latest News
(Posted on 26/09/23)
The Port of Rotterdam Authority and Yokogawa Electric Corporation have initiated a feasibility study... Read more
(Posted on 19/09/23)
HES Gdynia in Poland has started the construction works of a grain storage facility extension in port... Read more
(Posted on 12/09/23)
A joint Statement from the United States and the European Union has been released on support for Angola... Read more
(Posted on 08/09/23)
Associated British Ports has announced the successful renewal of a lease agreement with Breedon Group... Read more
(Posted on 04/09/23)
In North Sea Port, the transportation of goods to the hinterland by inland waterway continues to increase... Read more
(Posted on 28/08/23)
Both the tense economic situation in Europe, especially in Germany, and background geopolitical factors... Read more
(Posted on 21/08/23)
Abu Dhabi based AD Ports Group has announced its financial results for the second quarter of 2023, reporting... Read more
(Posted on 14/08/23)
SOHAR Port and Freezone in the Sultanate of Oman, has signed a land lease agreement with Sohar Noble... Read more
(Posted on 09/08/23)
CN has published its 2023-2024 Grain Plan, which builds on the operational improvements introduced this... Read more
(Posted on 02/08/23)
The Maritime Standard is delighted to announce the unveiling of the second session, titled 'Ports and... Read more