KVH and Intelsat reaffirm satellite partnership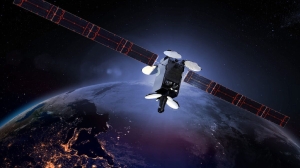 (Posted on 21/08/23)
KVH Industries, Inc. has announced the completion of a three-year renewal of its satellite services contract with Intelsat. The renewal includes increased network capacity, the flexibility to support future bandwidth adjustments, and reduced service costs that will enable KVH to offer even more competitive airtime rates for mariners.
"We are thrilled to extend our long-standing relationship with Intelsat, which began in 2017 when KVH proudly became the launch partner for Intelsat's FlexMaritime network," said Brent Bruun, KVH's President and Chief Executive Officer. "More than 7,100 commercial, leisure, and military vessels worldwide rely on KVH and Intelsat's FlexMaritime high-throughput satellites (HTS) to deliver connectivity, content, cybersecurity, and additional critical services. This network is the backbone of our KVH ONE™ hybrid network, which integrates Ku-band GEO services, low earth orbit (LEO) services, worldwide 5G/LTE cellular communications as fast as 200 Mbps down, and shore-based Wi-Fi services into a seamless, intelligently managed network to keep seafarers always connected."
"Today, KVH is a leader in maritime connectivity services, and we are proud to continue our long-standing partnership with them as they continue to make waves in the industry," said Mark Rasmussen, Senior Vice President, Mobility at Intelsat. "Intelsat's global FlexMaritime network delivers high-performing and reliable connectivity that, when combined with KVH's innovative tools and support, give customers assured access to a wide range of capabilities and mission-critical applications."
Access to KVH's KVH ONE network with Ku-band speeds as fast as 20/3 Mbps (down/up), affordable airtime, and value-added services has never been easier. KVH's award-winning TracNet™ product line features three terminals integrating satellite, cellular, and Wi-Fi technology with intelligent, automatic switching to ensure the best available communication option at all times. In addition to KVH's terminals, the new KVH ONE OpenNet Program enables vessels with non-KVH VSAT antennas to enjoy global VSAT coverage from KVH, all thanks to a simple software update.
Latest News
(Posted on 07/12/23)
In an initiative set to be transformational for ship design while protecting the oceans from pollution... Read more
(Posted on 03/12/23)
Ship design, particularly the design of bulk carriers, presents particular challenges when it comes... Read more
(Posted on 26/11/23)
VIKING Life-Saving Equipment, a global leader in maritime safety solutions, is launching an innovative... Read more
(Posted on 26/11/23)
Damen's client Gerdes Green has received a subsidy from the German Government for the investment... Read more
(Posted on 17/11/23)
A first of its kind training course for the Middle East has been held to teach mariners about the basic... Read more
(Posted on 13/11/23)
Wärtsilä ANCS, part of technology group Wärtsilä, has delivered to Seaspan, a marine... Read more
(Posted on 31/10/23)
The flag raising ceremony for three new ASD Tugs has taken place in Gdansk, Poland. In the presence... Read more
(Posted on 26/10/23)
A new immersive crane simulator that can recreate high-risk scenarios without putting drivers or other... Read more
(Posted on 23/10/23)
Vesto Ropes, a global leader in innovative steel wire-rope solutions, has announced a strategic partnership... Read more
(Posted on 23/10/23)
Bedeschi S.p.a. has been awarded a contract for the design and supply of a new longitudinal storage... Read more