Koskinen new Chairman of Finnish Shipowners' Association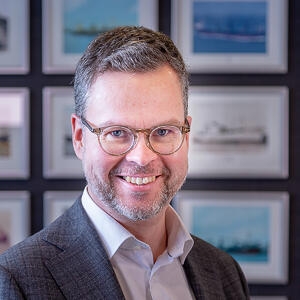 (Posted on 30/11/20)
The Finnish Shipowners' Association has elected its new Board composition including the Chairman of the Board. Mikki Koskinen, Managing Director of ESL Shipping Ltd, was elected the new Chairman of the Board. While the Board members and vice members were elected for a one-year term, the Chairman of the Board was elected for a two-year term.
Koskinen has previously served as the Vice Chairman of the Board and has also represented Finland on the Board of the International Chamber of Shipping, the international umbrella organization for shipping companies.
"This year has been exceptionally challenging for the shipping industry due to the Covid-19 pandemic. Over the next two years, the competitiveness of Finnish shipping companies and the overall vitality of the sector must be strengthened.
The priorities for the forthcoming term include, in particular, sustainability and the development towards increasingly low-emission shipping," Koskinen.
"In terms of regulation, it also means that Finland's special conditions, such as winter shipping, should always be taken into account," Koskinen continues.
Koskinen is Managing Director of ESL Shipping, leading carrier of dry bulk cargoes in the Baltic region. Main clients are the power generation, steel and chemical industries for whom they carry raw materials such as coal, iron ore and limestone. ESL Shipping Ltd has been in business 70 years and is a subsidiary of Aspo Plc.
Latest News
(Posted on 28/03/23)
The board of Oldendorff Carriers, has appointed Patrick Hutchins as the new President and CEO of the... Read more
(Posted on 28/03/23)
The Swedish Club is looking to the future with the expansion and restructuring of the Club's management... Read more
(Posted on 24/03/23)
One Sea has welcomeed Finnish start-up Groke Technologies as its new member, bringing additional expertise... Read more
(Posted on 24/03/23)
ClassNK has released "FAQs on the EU-ETS for Shipping", an overview and necessary preparation... Read more
(Posted on 20/03/23)
AXSMarine, a pioneer and market leader in the provision of advanced solutions for shipping professionals... Read more
(Posted on 20/03/23)
Shipzero is enabling transport and logistics companies to create transparency about their emissions... Read more
(Posted on 07/03/23)
The Isle of Man Ship Registry (IOMSR) has become an associate member of The International Association... Read more
(Posted on 07/03/23)
The wellbeing of crew members is becoming more important to shipping companies says leading catering... Read more
(Posted on 28/02/23)
Canada based Algoma Central Corporation has reported its results for the year ended 31 December, 2022... Read more
(Posted on 24/02/23)
Ukrainian seafarers have largely returned to international shipping thereby restoring balance in crew... Read more