Konecranes Gottwald for new Italian terminal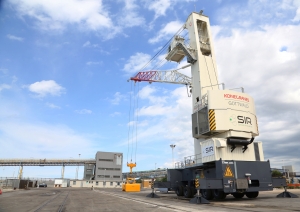 (Posted on 04/07/18)
Konecranes recently commissioned the Model 2 mobile harbour crane in Brindisi, where it will handle coal destined for power generation in continuous-duty operation.
SIR srl (SIR), a leading provider of industry-related environmental services, purchased in May 2018 the eco-efficient diesel-electric crane to be the backbone of its new port business.
Antonio Roma, Managing Director and owner, SIR, explains, "We won a tender to provide a coal-fired power plant in Brindisi with imported coal and have taken the opportunity to launch our own handling activity in the Port of Brindisi. The Model 2 crane will play a key role in the supply chain from bulk vessels to the power station, as it will ensure productive and reliable handling of inbound coal in the long term. Thanks to its outstanding versatility, it can also load and unload general cargo and containers when needed. We have therefore opted for a crane we can grow with."
Gino Gherri, Regional Sales Manager, Konecranes Port Solutions, says, "Italy is a very important market for the entire range of Konecranes Gottwald Mobile Harbour Cranes, and has diverse operator needs. On one hand, existing and new customers are currently investing in larger cranes to comply with the increasing demand for loading and unloading bigger container vessels. On the other hand, SIR is an excellent example of how we can also provide other terminals, including multi-purpose and bulk terminals, with handling equipment that perfectly meets their particular needs. Like our larger cranes, the Model 2 crane was developed for versatile use in terminals of every kind and size."
The Model 2 mobile harbor crane in the G HMK 2304 two-rope variant for Brindisi will be operated with a motor grab. It provides a strong lifting profile with a maximum lifting capacity of 80 t, a strong 32-t motor grab curve for efficient handling of bulk material, and offers an outreach of up to 40 m.
Konecranes is a world-leading group of Lifting Businesses, serving a broad range of customers, including manufacturing and process industries, shipyards, ports and terminals. Konecranes provides productivity enhancing lifting solutions as well as services for lifting equipment of all makes. In 2017, Group sales totaled EUR 3,136 million. The Group has 16,200 employees at 600 locations in 50 countries.
Latest News
(Posted on 24/03/23)
Bruks Siwertell has secured an order for a next-generation Siwertell road-mobile ship unloader, which... Read more
(Posted on 20/03/23)
Thordon Bearings is supplying its grease-free, self-lubricating ThorPlas-Blue bearing material to a... Read more
(Posted on 20/03/23)
French water treatment specialist BIO-UV Group has appointed Laurent-Emmanuel Migeon as its new Chairman... Read more
(Posted on 07/03/23)
With Wärtsilä's CII Dashboard, Anglo-Eastern is now able to make better informed decisions... Read more
(Posted on 07/03/23)
Bruks Siwertell has completed the commissioning of two large-scale Siwertell ST 790-D-type ship unloaders... Read more
(Posted on 28/02/23)
A consortium including technology group Wärtsilä has secured European Union funding to develop... Read more
(Posted on 28/02/23)
Bruks Siwertell has received an order for a next-generation Siwertell road-mobile ship unloader from... Read more
(Posted on 24/02/23)
Global Survival Technology solutions provider Survitec has introduced a new, formalised pre-inspection... Read more
(Posted on 24/02/23)
The slightest deviation in the machining, polishing, and finishing of ships' propeller blades... Read more
(Posted on 20/02/23)
Bühler expanded its business and improved profitability in an uncertain and volatile business environment... Read more