Job losses loom as British steel proposes coke ovens closure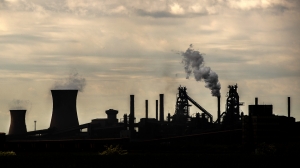 (Posted on 22/02/23)
British Steel has announced proposals to close its coke ovens as part of its drive to overcome global economic challenges and build a green and sustainable future. The proposals could lead to the loss of up to 260 roles at the company's Scunthorpe site.
The company, which saw its bills for energy and carbon increase by £190 million last year, said decisive action is required because of the unprecedented rise in operating costs, surging inflation and the need to improve environmental performance. British Steel is now under the ownership of Jingye, one of China's leading steelmakers.
British Steel CEO Xifeng Han said: "Steel is vital to modern economies and with demand expected to grow over the coming decades, British Steel has a crucial role to play in ensuring the UK has its own supply of high-quality steel. To make sure we can deliver the steel Britain requires, we're undergoing the biggest transformation in our 130-year history.
"To support the journey to net zero, our owners, Jingye, have invested £330 million in capital projects during their first 3 years of ownership and they continue to invest unprecedented sums of money in British Steel. Jingye is committed to our long-term future but decarbonisation is a major challenge for our business and, like most companies, we're facing significant challenges because of the economic slowdown, rising inflation and exceptionally high energy prices. For example, last year our energy bill rose by £120 million while we've also faced an increase of over £70 million in our annual carbon costs.
"We have taken action to reduce costs within our control; however, steelmaking in the UK remains uncompetitive when compared to other international steelmakers. Our energy costs, carbon costs and labour costs are some of the highest across the world, which are factors that we cannot influence directly. For the reasons outlined, we entered into talks with the UK Government in Summer 2022 and are extremely grateful for its support. It's important we have the correct policies and frameworks in place to back our drive to become a clean, green and successful company and we're continuing to discuss this with the government. We are committed to working together and to making the home-made steel Britain needs for generations to come.
"To build a secure future for British Steel, and protect skilled and well-paid careers for thousands of employees and many more in our supply chain, we are – like many other businesses – proposing to streamline our business. We're disappointed at having to make such proposals but are confident they will support a successful transformation.
"The Trade Unions are aware of our proposal to close the coke ovens and we look forward to working closely with them to ensure a long-term safe and sustainable future for the company, thousands of employees and many more people in our supply chain. We also continue to look at other potential cost- saving measures across the business and will announce any further proposed changes in due course."
Latest News
(Posted on 31/03/23)
Bunge Limited has announced that Kathleen Hyle, non-executive chairperson of the Board of Directors,... Read more
(Posted on 31/03/23)
Rio Tinto and First Quantum Minerals have entered into an agreement to form a joint venture that will... Read more
(Posted on 28/03/23)
Fertilizers Europe has called on EU co-legislators to ensure that clean fertilizer and ammonia production... Read more
(Posted on 24/03/23)
BHP and global engineering, project management and professional services firm, Hatch, have signed an... Read more
(Posted on 20/03/23)
Rio Tinto increased its spend with Australian suppliers to more than A$15.3 billion in 2022, as part... Read more
(Posted on 20/03/23)
Trafigura Group Pte Ltd., a market leader in the global commodities industry, has announced the closing... Read more
(Posted on 07/03/23)
Nexyst 360, an innovative grain transportation solution provider, has partnered with Nexxiot to digitalize... Read more
(Posted on 28/02/23)
Cargill has announced the appointments of Joanne Knight as Chief Financial Officer (CFO) and Philippa... Read more
(Posted on 24/02/23)
Trafigura, a market leader in the global commodities industry, has entered into a USD 500 million five... Read more
(Posted on 20/02/23)
Global miner Rio Tinto and Japanese trader and business conglomerate Marubeni Corporation have agreed... Read more