IRClass makes Middle East inroads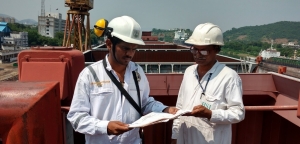 (Posted on 07/01/19)
Leading classification society Indian Register of Shipping (IRClass), has made significant inroads into the Middle East market, following the announcement on its plans to further strengthen its footprint in the region. IRClass is an international ship classification society providing ship classification and certification as well as technical inspection services.
IRClass has received authorisation as a Recognised Organisation (RO) from The Hashemite Kingdom of Jordan – opening doors of opportunities of shipping companies to the classification society.
Further, IRClass has also received authorisation as RO from the Kingdom of Bahrain's Port and Maritime Authority. With these two key recognitions in the region, IRClass is now recognised by 41 flags worldwide.
IRClass has recently set up an office in Dammam, KSA to expand its reach and serve the region better. The classification society is also pursuing approval from the Kingdom of Saudi Arabia (KSA).
In a bid to increase visibility of the classification society's suite of services, IRClass has signed a service agency agreement with XO Class, Sa Beirut at a recent event at the Lebanon Chamber of Commerce in Beirut. The event was attended by His Excellency Mr. Sanjiv Arora, the Ambassador of India in Lebanon, Mr. Mohamed Choucair, Chairman of Lebanon Economic Commission, as well as shipowners from Lebanon, Turkey, Egypt and Russia to name a few.
IRClass has also received approval from Abu Dhabi National Oil Company (ADNOC), an umbrella organisation for group of Oil and Gas companies such as ADCO, ADMA-OPCO,ZADCO,NDC etc. A key breakthrough for the classification society, which will enable it to enhance its services to the offshore sector of UAE.
Mr. Rajeev Pratap Rao, Regional Manager for Middle East and Africa said: "The progress we've made in the Middle East region has been highly encouraging. These developments would help us in servicing the needs of our customers in Middle East region and offer real-time responses to the vessels. IRClass is actively seeking business opportunities in shipping and offshore sectors in the region."
IRClass is a Member of the International Association of Classification Societies (IACS).
Latest News
(Posted on 24/03/23)
One Sea has welcomeed Finnish start-up Groke Technologies as its new member, bringing additional expertise... Read more
(Posted on 24/03/23)
ClassNK has released "FAQs on the EU-ETS for Shipping", an overview and necessary preparation... Read more
(Posted on 20/03/23)
AXSMarine, a pioneer and market leader in the provision of advanced solutions for shipping professionals... Read more
(Posted on 20/03/23)
Shipzero is enabling transport and logistics companies to create transparency about their emissions... Read more
(Posted on 07/03/23)
The Isle of Man Ship Registry (IOMSR) has become an associate member of The International Association... Read more
(Posted on 07/03/23)
The wellbeing of crew members is becoming more important to shipping companies says leading catering... Read more
(Posted on 28/02/23)
Canada based Algoma Central Corporation has reported its results for the year ended 31 December, 2022... Read more
(Posted on 24/02/23)
Ukrainian seafarers have largely returned to international shipping thereby restoring balance in crew... Read more
(Posted on 24/02/23)
The Chairs of the Round Table of International Shipping Associations met in Athens last week to renew... Read more
(Posted on 21/02/23)
AXSMarine, a leading provider of SaaS shipping software and data for decision making in the chartering... Read more