INTERCARGO Warning against complacency over liquefaction deaths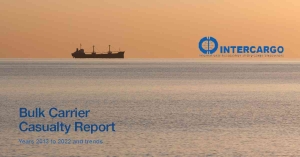 (Posted on 01/08/23)
Cargo liquefaction still remains the greatest contributor to loss of life associated with bulk carrier losses while grounding remains the main cause of ship losses, according to the recently published Bulk Carrier Casualty Report 2013-2022 from INTERCARGO.
The document was submitted to the International Maritime Organization in May, ahead of the 9th session of its Sub-Committee on Implementation of IMO Instruments (III), which takes place at the IMO from 31st July to 4th August and has a key role in casualty analysis and issuing lessons learned from marine incidents.
The Casualty Report provides 10-year information on bulk carrier casualty statistics, looking at trends in casualties in terms of both loss of life and loss of ships, drilling down into the size and age of vessels as well as Flag State performance.
While the report shows a clear trend of improved safety and declining ship losses at a time of fleet growth, it also shows that major incidents involving loss of life are still occurring and the industry must examine why they are still happening - there is no room for complacency.
Operations Manager Xianyong (Joe) Zhou, says: "As the voice of global dry bulk shipping, INTERCARGO is determined to help lead the response to these events. While the Report highlights that improvements are being made in safety, there is still clearly more to do to make shipping safer. We must continue to learn how we can best protect the lives of seafarers as well as the vessels and their cargo from damage and loss."
The report highlights that between 2013 and 2022, 26 bulk carriers of more than 10,000 deadweight tonnes (dwt) were reported lost, with the tragic loss of 104 seafarers' lives.
Statistics for 2022 alone show the loss of two bulk carriers, one due to a collision and the other from losing power and sinking in rough seas, with a loss of 12 seafarers from these incidents.
The rolling report also highlights that four of the five bulk carrier casualties, which led to the loss of 70 lives, occurred as a result of cargo liquefaction; four were loaded with nickel ore and one with bauxite.
In terms of ship losses, grounding was the most common reported cause between 2013 and 2022, accounting for 12 bulk carriers lost (46.2%), with various other causes including problems with machinery and equipment.
Learning lessons from incidents and casualties and the sharing of experience have proven to be effective in raising safety awareness and, in addition to the submission of the INTERCARGO Bulk Carrier Casualty Report to IMO every year since 1996, the association has made its voice heard on a number of safety issues at IMO through papers and interventions.
Latest News
(Posted on 07/12/23)
ClassNK has issued Approvals in Principle (AiPs) for four cutting-edge ship designs developed by Marine... Read more
(Posted on 07/12/23)
A smartship partnership bringing together ship management company Laskaridis Shipping, digital technology... Read more
(Posted on 07/12/23)
ABB has launched a new digital tool allowing shipowners, operators and designers to estimate the emission... Read more
(Posted on 03/12/23)
The Dry Bulk and LNG segments have borne the brunt of restricted transits, particularly due to their... Read more
(Posted on 03/12/23)
Columbia Shipmanagement (CSM) is set to further boost operational efficiency on its vessels, as crew... Read more
(Posted on 26/11/23)
Shi.E.L.D. Services has selected Spinergie as its preferred digitized solution provider to monitor and... Read more
(Posted on 26/11/23)
Thousands of cadets and trainees in India will benefit from in-depth wellness training and support thanks... Read more
(Posted on 17/11/23)
As shipping continues its journey to decarbonisation, INTERCARGO will host a special forum in Athens... Read more
(Posted on 13/11/23)
INTERCARGO was deeply saddened and concerned to hear of the reported appalling missile attack on the... Read more
(Posted on 13/11/23)
A new-look Wellness at Sea Awareness Campaign for seafarers, their families and shore staff that &ldquo... Read more