INTERCARGO calls for seafarers to receive vaccine as priority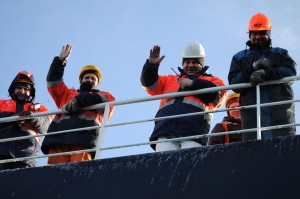 (Posted on 10/12/20)
Following the worldwide news that vaccines for COVID-19 are now a reality, it is paramount that
authorities give priority to seafarers in their vaccination programmes, says INTERCARGO, the organisation
representing the world's quality dry bulk shipowners.
"As key workers, seafarers should be included in the early stages of a nation's vaccination programme,"
says INTERCARGO Chairman Dimitris Fafalios. "As a key element in the drive to reboot the world's
economy, seafarers should receive vaccinations quickly and efficiently. We welcome new initiatives from
national authorities and industry bodies to facilitate this and urge that these new initiatives be brought
forward and trialled as a matter of urgency, so that seafarers can once again travel safely between their
home and their ships, and undertake port operations without the fear of infection."
INTERCARGO Vice-Chairman Captain Jay K. Pillai says "It is of grave concern that at least 3% of all seafarers
currently on board ships will be spending a second Christmas at sea, away from their families and friends,
and an estimated 20% of all seafarers on board are still not relieved upon completion of their regular
contracts, despite flights becoming available. The world is making great strides to combat the personal
and economic toll taken by this virus" and adds "It is now time for the World Health Organisation to work
in the direction of a worldwide acceptable COVID vaccination certificate, both on paper and electronically,
and for the unique situation our seafarers face to be recognised."
INTERCARGO has actively supported industry initiatives, including the recent IMO Maritime Safety
Committee industry-developed protocols, which set out general measures and procedures designed to
ensure that ship crew changes and travel can take place safely during the pandemic. INTERCARGO
welcomes the recent UN Resolution on Crew Change, which urges Member States to designate seafarers
and other marine personnel as key workers
Unfortunately, the seafarers' humanitarian crisis continues as a result of the impact of COVID-19 on crew
change. Difficulties have been experienced in the practical implementation of the IMO protocols. Whilst
the earlier challenges focused on the non-availability of flights, visa issuance hurdles are currently the
primary obstacle. In addition, the availability of testing facilities prior to departing home country and
embarkation on ship, the difficulties faced when positive COVID-19 cases have been found on board,
access to medical care and medical facilities, as well as facilitating evacuation of seafarers in need of
urgent medical attention, continue to be extremely challenging.
Captain Pillai adds: "Unfortunately, the seafarers on board remain under stress and at risk of mental
illness, and those on leave are increasingly anxious to resume earning their livelihood. Both parties are
left to the mercy of governments and their Port Authorities to facilitate crew change. While we applaud
the positive steps taken by some governments to allow the gradual opening of ports to crew change, this
process has not been smooth and continues to be full of setbacks."
"It is high time for ports and charterers to recognise seafarers as fellow human beings and extend
compassion towards those who carry and care for their cargoes."
Latest News
(Posted on 07/12/23)
ClassNK has issued Approvals in Principle (AiPs) for four cutting-edge ship designs developed by Marine... Read more
(Posted on 07/12/23)
A smartship partnership bringing together ship management company Laskaridis Shipping, digital technology... Read more
(Posted on 07/12/23)
ABB has launched a new digital tool allowing shipowners, operators and designers to estimate the emission... Read more
(Posted on 03/12/23)
The Dry Bulk and LNG segments have borne the brunt of restricted transits, particularly due to their... Read more
(Posted on 03/12/23)
Columbia Shipmanagement (CSM) is set to further boost operational efficiency on its vessels, as crew... Read more
(Posted on 26/11/23)
Shi.E.L.D. Services has selected Spinergie as its preferred digitized solution provider to monitor and... Read more
(Posted on 26/11/23)
Thousands of cadets and trainees in India will benefit from in-depth wellness training and support thanks... Read more
(Posted on 17/11/23)
As shipping continues its journey to decarbonisation, INTERCARGO will host a special forum in Athens... Read more
(Posted on 13/11/23)
INTERCARGO was deeply saddened and concerned to hear of the reported appalling missile attack on the... Read more
(Posted on 13/11/23)
A new-look Wellness at Sea Awareness Campaign for seafarers, their families and shore staff that &ldquo... Read more