IFA re-establishes London presence as it co-locates with the GAFTA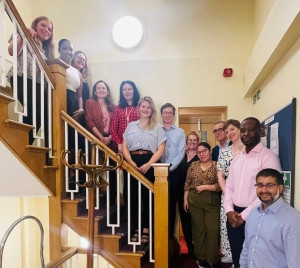 (Posted on 03/07/23)
The International Fertilizer Association (IFA) has opened an office in London, within the premises of the Grain and Feed Trade Association (Gafta) The move marks both IFA's return to London where it was originally established in 1927, and the establishment of a dual presence for the Association in both London and Paris. IFA has been headquartered in Paris since 1957 and retains its Paris office.
The IFA is the only global fertilizer association, with 450+ members in some 80 countries and a mission to promote the efficient and responsible production, distribution and use of plant nutrients.
The International Fertilizer Association re-establishes its presence in London, co-locates with the Grain and Feed Trade Association
IFA Chief Executive Officer and Director General, Alzbeta Klein, said: "I am excited to be opening the new IFA London office today, and to be co-located with Gafta in this historic building. IFA has been a UK registered company since its inception in 1927 and the establishment of this office will enable us to become a dual-centered organization, while retaining our strong, experienced employee base in Paris. Gafta and IFA have complementary offerings and I believe our two industries will also benefit from this closer association."
GAFTA Director General, Jaine Chisholm Caunt OBE, said: "I am delighted to welcome IFA to 9 Lincoln's Inn Fields to be co-located with Gafta. Gafta and IFA are both members of the International Agrifood Network (IAFN) and have worked together for many years on UN-focused work to ensure global food security remains a vital priority for policymakers. I am sure that this new development will enable further fruitful opportunities for collaborative activities, which will benefit all our members."
The IFA's mission plays a critical role in helping to feed the world sustainably. IFA represents providers of plant nutrition solutions. Members include fertilizer producers, traders and distributors, as well as their associations, service providers to the industry, research organizations, agtech start-ups and non-governmental organizations.
Latest News
(Posted on 26/09/23)
Vale has announced that it signed a MOU with the Port of Açu to study the development of a Mega... Read more
(Posted on 26/09/23)
The European Soy Monitor 2021 has been published, containing an overview of estimations on the use of... Read more
(Posted on 19/09/23)
BHP contributed $60 billion (AUD) in economic value to the Australian economy in the 2023 financial... Read more
(Posted on 19/09/23)
BHP contributed $60 billion (AUD) in economic value to the Australian economy in the 2023 financial... Read more
(Posted on 19/09/23)
Trafigura Group Pte Ltd. has announced an evolution of its executive team to further strengthen leadership... Read more
(Posted on 12/09/23)
The Food and Agricultural Organisation of the United Nations (FAO) forecast for global cereal production... Read more
(Posted on 08/09/23)
Rio Tinto has appointed Jérôme Pécresse to lead its Aluminium business, succeeding... Read more
(Posted on 04/09/23)
The Environmental Protection Agency (EPA) and the Army Corps in the USA have announced the final definition... Read more
(Posted on 28/08/23)
Despite the many and varied categories of cargo damage faced by shipowners transporting grain cargoes... Read more
(Posted on 28/08/23)
Rio Tinto and First Quantum Minerals have completed a transaction to form a joint venture that will... Read more