Hill Dickinson consolidates commodities expertise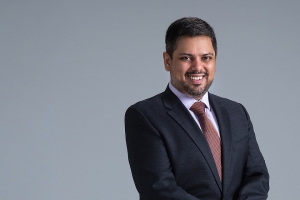 (Posted on 20/08/21)
Maritime law specialist Hill Dickinson has boosted its commodities expertise in Asia and the Far East with the hire of a trade finance and further commodities expert to its Singapore office, consolidating its position as the market leader in commodities law.
Devottam Sengupta (Dev) joins the firm as partner, bringing with him significant commodities finance and structured trade finance expertise. Dev's appointment closely follows the arrival in July of commodities dispute specialist, Iain Sharp. Dev will work closely with the team in Singapore as well as Hill Dickinson's shipping and trade lawyers in London, Hong Kong and Greece.
Welcoming their arrival Andrew Lee, head of Hill Dickinson's Singapore office, said: "Dev's addition to our team represents another significant investment for Hill Dickinson in the growing Singapore commodities market. Both Dev and Iain are genuine industry specialists in their fields with a strong understanding of the commercial realities of their sector. Dev's arrival further strengthens our in-house expertise for our clients around the globe and in particular in this region."
Dev Sengupta is a member of the Bar Council of Maharashtra and Goa (India) 2006 and joins Hill Dickinson from Greensill Capital in Singapore. He has significant experience in providing structuring and legal support through the entire transaction lifecycle and has led on a range of multimillion dollar banking, trade finance and structured finance transactions. He was previously Co-Head of the Global Markets and Financing Legal Team at Louis Dreyfus Company, and is also an expert in Indian law.
Dev commented: "I'm thrilled to be joining a firm as storied as Hill Dickinson in the commodities and trade space. Having worked with and benefited from Hill Dickinson's expertise when in-house, I feel honoured to now be joining the team. I look forward to working with my colleagues across the world in delivering best-in-class trade and commodities financing advice to our clients."
Latest News
(Posted on 24/03/23)
BHP and global engineering, project management and professional services firm, Hatch, have signed an... Read more
(Posted on 20/03/23)
Rio Tinto increased its spend with Australian suppliers to more than A$15.3 billion in 2022, as part... Read more
(Posted on 20/03/23)
Trafigura Group Pte Ltd., a market leader in the global commodities industry, has announced the closing... Read more
(Posted on 07/03/23)
Nexyst 360, an innovative grain transportation solution provider, has partnered with Nexxiot to digitalize... Read more
(Posted on 28/02/23)
Cargill has announced the appointments of Joanne Knight as Chief Financial Officer (CFO) and Philippa... Read more
(Posted on 24/02/23)
Trafigura, a market leader in the global commodities industry, has entered into a USD 500 million five... Read more
(Posted on 22/02/23)
British Steel has announced proposals to close its coke ovens as part of its drive to overcome global... Read more
(Posted on 20/02/23)
Global miner Rio Tinto and Japanese trader and business conglomerate Marubeni Corporation have agreed... Read more
(Posted on 20/02/23)
Trafigura, a market leader in the global commodities industry, and Ecobat, the global leader in battery... Read more
(Posted on 13/02/23)
Hydrogen is at the core of the green steel transition. Ensuring access to this scarce resource &ndash... Read more