Healthy bulk market helps Pacific Basin generate record interim results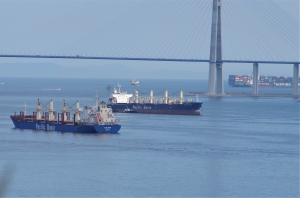 (Posted on 05/08/22)
Pacific Basin Shipping Limited, one of the world's leading dry bulk shipping companies, has announced the results of the Company and its subsidiaries for the six months ended 30 June 2022.
Martin Fruergaard, CEO of Pacific Basin, said: "In the first half of 2022, we generated our best interim results ever, producing an underlying profit of US$457.5 million, a net profit of US$465.1 million and an EBITDA of US$566.9 million. This yielded an exceptionally strong return on equity of 48%, with basic EPS of HK74.5 cents. Our results benefited from significantly higher average TCE earnings compared to the same period last year, strong operating activity results, and a competitive cost structure.
We continued to significantly outperform the market index rates, especially in our Supramax business, which delivered an exceptional performance over the period. Global minor bulk loading volume grew approximately 9% in the first half compared to the same period last year. Construction materials were the main driver, in particular cement, clinker and aggregates where loadings were up 8% year on year. On the other hand, the global dry bulk fleet grew only 1.5% net during the half-year compared to 1.9% in the same period last year mainly due to slowing newbuilding deliveries. The global fleet of Handysize and Supramax vessels grew by 1.6%, which despite slowing global economic growth has helped to support higher rates over the period. Our core business generated average Handysize and Supramax daily time-charter equivalent earnings of US$26,370 and US$33,840 net per day in the first half, representing an increase of 83% and 85% compared to the same period in 2021, respectively. Our performance continues to benefit from our diverse cargo and customer base and the close customer interaction facilitated by our extensive global office network. Our operating activity contributed US$30.7 million, generating a margin of US$3,330 net per day over 9,200 operating days in the first half. While margins varied over the period, they still remain historically high. Our financial position continues to strengthen with available committed liquidity of US$698.6 million and a net cash position of US$68.9 million as at 30 June 2022.
In light of the strong earnings, cash position and our confidence in the longer-term outlook for minor bulk shipping, the Board has declared an interim basic dividend of HK35 cents per share, representing 50% of our net profit for the period, and an additional special dividend of HK17 cents per share, representing 25% of our net profit for the period. The basic dividend and the special dividend together amount to a total dividend of HK52 cents per share.
We remain committed to our long-term strategy to grow our owned fleet of Supramax ships by acquiring high-quality, modern, second-hand vessels, and to sell our older and less-efficient Handysize ships and replace them with younger and larger Handysize vessels. During the period we sold five of our older Handysize ships, while taking delivery of one Ultramax vessel purchased in 2021. This strategy is resulting in an even more efficient fleet with greater longevity, while crystallising value from historically high secondhand prices. We expect our vessel purchasing activity to be less than last year as asset prices have approached historical highs, though we remain opportunistic where we see attractive second-hand acquisition opportunities. We currently own 117 Handysize and Supramax ships and, including chartered ships, we have approximately 240 ships on the water overall. In light of a softening global economy, we expect dry bulk demand in the second half to moderate somewhat from recent highs but remain relatively firm mainly due to seasonal factors in the grain market, elevated coal demand for electricity production and continued investment in global infrastructure."
Latest News
(Posted on 28/03/23)
The board of Oldendorff Carriers, has appointed Patrick Hutchins as the new President and CEO of the... Read more
(Posted on 28/03/23)
The Swedish Club is looking to the future with the expansion and restructuring of the Club's management... Read more
(Posted on 24/03/23)
One Sea has welcomeed Finnish start-up Groke Technologies as its new member, bringing additional expertise... Read more
(Posted on 24/03/23)
ClassNK has released "FAQs on the EU-ETS for Shipping", an overview and necessary preparation... Read more
(Posted on 20/03/23)
AXSMarine, a pioneer and market leader in the provision of advanced solutions for shipping professionals... Read more
(Posted on 20/03/23)
Shipzero is enabling transport and logistics companies to create transparency about their emissions... Read more
(Posted on 07/03/23)
The Isle of Man Ship Registry (IOMSR) has become an associate member of The International Association... Read more
(Posted on 07/03/23)
The wellbeing of crew members is becoming more important to shipping companies says leading catering... Read more
(Posted on 28/02/23)
Canada based Algoma Central Corporation has reported its results for the year ended 31 December, 2022... Read more
(Posted on 24/02/23)
Ukrainian seafarers have largely returned to international shipping thereby restoring balance in crew... Read more