HAROPA "Getting to Zero"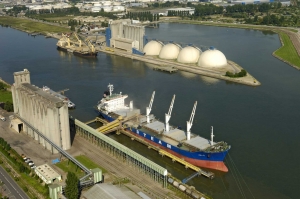 (Posted on 23/10/20)
The "Getting to Zero Coalition" was launched at the United Nations Climate Action Summit 2019 as part of a partnership between three intergovernmental organisations (the Global Maritime Forum, Friends of Ocean Action and the World Economic Forum) to combat climate change.
It aims to reduce greenhouse gas (GHG) emissions from shipping by at least 50% by 2050 compared to 2008 levels. To reach this goal and to make the transition to full decarbonisation possible, the members of this coalition are committed to help developing zero-emission ships and fuels by 2030.
HAROPA - Port of Le Havre is now one of the coalition members alongside more than 90 companies from across maritime, energy and finance sectors.
"We share the ambition to become a positive-energy port. By joining the Getting to Zero Coalition, we intend to actively contribute to the development of ever-cleaner service for our customers and stakeholders of the supply chain," said Baptiste Maurand, Managing Director HAROPA - Port of Le Havre.
Enjoying an exceptional location on the west coast of Europe, HAROPA - Port of Le Havre, the #1 French port for foreign trade and the 5th ranking port on the North Europe range for container traffic, each year berths nearly 6,000 vessels including the largest containerships in the world. Accessible 24/7, it handles more than 70 million tonnes of goods each year and supplies nearly 40% of French crude oil imports.
A member of HAROPA, the first French port system, alongside the ports of Rouen and Paris, Le Havre is a fast shipping outlet to every continent for the world's shipping lines with nearly 600 ports of call. One of the largest port complexes in Europe, HAROPA has nearly 500 hectares of land available or suitable for conversion along the Seine corridor. The port supports its customers in setting up and managing competitive and sustainable logistics systems to serve the largest consumer marketplace in Europe with some 25 million inhabitants.
Latest News
(Posted on 24/03/23)
LOGISTEC Corporation, a leading marine and environmental services provider, has announced its financial... Read more
(Posted on 24/03/23)
Terence Bowles, President and CEO of the St. Lawrence Seaway Management Corporation (SLSMC), and Adam... Read more
(Posted on 20/03/23)
Abu Dhabi based AD Ports Group, the leading facilitator of global trade, logistics, and industry, has... Read more
(Posted on 20/03/23)
Grain handling at the Port of Immingham is increasing thanks to the new opportunities presented by investment... Read more
(Posted on 07/03/23)
Marcor Stevedoring has signed a contract adding Liebherr's largest and most powerful mobile harbour... Read more
(Posted on 07/03/23)
AD Ports Group, an Abu Dhabi based leading facilitator of global trade, logistics, and industry, and... Read more
(Posted on 02/03/23)
LOGISTEC Stevedoring Inc., a subsidiary of LOGISTEC Corporation, a leading North American marine and... Read more
(Posted on 28/02/23)
End-of-year figures for total traffic in the Spanish Port of Bilbao stand at 32.7 million tonnes, up... Read more
(Posted on 24/02/23)
The Port of Sept-Îles and LOGISTEC Arrimage Inc. have announced that they have reached the impressive... Read more
(Posted on 24/02/23)
The war in Ukraine led to unprecedented changes in goods flows last year. At 467.4 million tonnes, total... Read more