Hamburg Senate presents Port Development Plan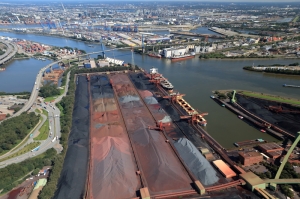 (Posted on 21/06/23)
The Hamburg Senate has endorsed a new port development plan. This lays down strategic guidelines for the port policy of the coming years, defines the availability of land for port development, and outlines strategic orientation for their future utilization.
Dr. Melanie Leonhard, Senator of Economics and Innovation: "Hamburg is and will remain Germany's largest seaport, of fundamental importance for both this export nation's economic strength, and secure, reliable supplies at national and European level. Going forward, we shall continue to operate a large, efficient universal port that serves these aims. Cargo throughput is not an end in itself. Handling totals may be an indicator, but are not the only relevant factor. Unlike other ports, Hamburg is itself a significant market and industrial base. Goods on arrival are not only transhipped, but also consumed or further processed."
The Port Development Plan cites global trends, local operating conditions, and both social and economic developments. To remain competitive, the port needs to adapt continuously to these. The Port Development Plan accordingly defines guidelines for the required transformation processes (Part 1) and cites concrete areas for action, goals and measures (Part 2). Along with many individuals, such stakeholders in the port as companies, trade associations and chambers have been comprehensively integrated several times in the drafting process.
The port will harness such global mega-trends as digitalization, climate protection, the circular economy, the transformation of work, and e-commerce, to extend its position. Customer orientation, quality and climate protection are crucial leitmotivs for the development of the port. Hamburg will rely on its existing strengths, yet primarily on its great diversity. This not only opens up numerous development prospects for the port, at the same time making it adaptable and resilient in face of economic fluctuations. The Port of Hamburg should continue in future to be notable for a variegated range of services, from cargo handling, via its broad industrial base and efficient logistics, to cruise shipping. Going forward, the port development plan presents a strategic land utilization regime providing the basis for facilitating a mix of functions in future.
The project covers the following opportunities for action in the city and the port: Digitalization, climate protection, a circular economy and ecology, maintenance and expansion of infrastructure, settlement and land strategy, transformation of work, e-commerce. These cover measures for the further development of infrastructure and the use of digital aids. Special attention is given to the powerful Port Railway network and the superb rail infrastructure with the hinterland that makes the Port of Hamburg a pioneer of the climate-considerate transformation of freight traffic. From 2040, the Port should be climate-neutral in its operations. In addition, the determined expansion of shore power-supply for vessels will reduce emissions of harmful pollutants, contributing directly towards keeping the atmosphere clean.
Dr. Melanie Leonhard, Senator of Economics: "We shall be further strengthening our port's function as a value added centre and maritime logistics hub. The global environment makes major advances on digitalization, efficiency and climate neutrality essential. We shall forge ahead with start-ups and further development in parallel with these different requirements. Our port is more essential than ever. In the next few decades we shall require large quantities of renewable, rather than fossil, sources of energy. These will reach Hamburg via the port that we are now already remodelling as the motive force for the energy transition. Maritime logistics can therefore play an essential part in climate-friendly transport and decarbonization of society as a whole. In Hamburg, our port is the key player for this."
Latest News
(Posted on 07/12/23)
US Port owners should start immediate planning to take advantage of the $3bn available in grants as... Read more
(Posted on 07/12/23)
The Vancouver Fraser Port Authority's board of directors has announced that it has appointed Peter... Read more
(Posted on 03/12/23)
In the presence of Kassym-Jomart Tokayev, President of the Republic of Kazakhstan, AD Ports Group, a... Read more
(Posted on 03/12/23)
Lhyfe, a global pioneer in the production of renewable green hydrogen for transportation and industrial... Read more
(Posted on 26/11/23)
A 194 million euro investment in North Sea Port will secure large-scale CO2 reduction by the largest... Read more
(Posted on 17/11/23)
The Central Association of German Seaport Operators (ZDS) has called for a decisive German port policy... Read more
(Posted on 13/11/23)
A groundbreaking feasibility study has highlighted the potential for using clean ammonia to refuel ships... Read more
(Posted on 05/11/23)
IAPH has announced the ratification by the IAPH Council of the new IAPH Board. The Board is formed by... Read more
(Posted on 05/11/23)
CN has announced that it acquired from Genesee & Wyoming Inc., a stake in the Cape Breton &... Read more
(Posted on 31/10/23)
Due to continued very high inflation, the Hamburg Port Authority (HPA) will raise port fees by an average... Read more