Guinea's Winning Logistics bolsters bauxite fleet with Konecranes barge cranes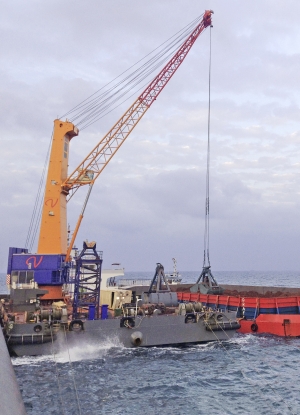 (Posted on 31/03/23)
Konecranes has won an order for two Konecranes Gottwald Cranes on Barge from Winning Logistics in Guinea. After on-site commissioning in Q3 2024, Winning will operate a total of ten Konecranes Gottwald Cranes on Barge, loading ships with bauxite off the West African coast.
Konecranes Gottwald Cranes on Barge are specially designed and built to ensure uninterrupted material flow on water, even under demanding marine conditions. They can operate in winds of up to 24 m/s and at maximum wave heights of 2.5 m, and are built according to Lloyd's Register Code for Lifting Appliances in a Marine Environment.
"Winning International Group takes Environmental, Social, Governance (ESG) compliance seriously in terms of sourcing products and services that are safe, reliable and efficient. We know that Konecranes Gottwald mobile harbor cranes are reliable products for harsh environments. Their high productivity backed by quality service consistently creates added value for us. These cranes play a critical role in our unique offshore transshipment operation that has proven to be efficient, cost-effective and environmentally friendly. We are happy to be able to partner with suppliers, like Konecranes, who share our belief in sustainability beyond shipping and mining." says Mr. Sun Zhijun, Vice President of Winning International Group.
"Our barge cranes are thoroughly modern cargo handling machines that can operate mid-stream and on the open sea. Winning's continuing trust in our expertise in this area, which reaches back over 20 years, confirms our leadership in this market," says Holger Wagner, Regional Sales Manager, Port Solutions, Konecranes.
The order is for two Konecranes Gottwald Model 8 G HPK 8200 B Cranes on Barge, with a working radius of 43 m, a powerful 63-t grab curve and lifting speeds of up to 140 m/min. Based on these parameters the cranes will reach handling rates of 30,000 t per day, a number already reached by the existing cranes in operation.
The new cranes will be fitted with many additional features to assist their performance and contribute to enhanced safety on the open sea, including a fire suppression system. TRUCONNECT® remote monitoring and a spare parts package will help to optimize maintenance for minimal downtime, as offshore service access can be limited by weather and sea conditions.
A strong focus on customers and commitment to business growth and continuous improvement make Konecranes a lifting industry leader. This is underpinned by investments in digitalization and technology, plus our work to make material flows more efficient with solutions that decarbonize the economy and advance circularity and safety.
Latest News
(Posted on 05/06/23)
Digitalisation can only go so far in protecting safe navigation in busy shipping lanes with human involvement... Read more
(Posted on 05/06/23)
Inmarsat Maritime, a Viasat business, and a world leader in global, mobile satellite communications,... Read more
(Posted on 02/06/23)
Belgian logistics and transportation company Zuidnatie NV ordered their first Generation 6 Konecranes... Read more
(Posted on 31/05/23)
Norwegian government agency Statsbygg has awarded Framo the development contract to supply pump systems... Read more
(Posted on 30/05/23)
Technology group Wärtsilä has signed a contract to deliver a Wärtsilä 20&nbsp... Read more
(Posted on 23/05/23)
Bruks Siwertell has secured an order from Senegal Minergy Port SA (SMP) for a high-capacity Siwertell... Read more
(Posted on 17/05/23)
To support the sizeable lumber industry in New Zealand, Liebherr Maritime Cranes has worked with ISO... Read more
(Posted on 14/05/23)
The Desmi Group's general assembly has approved the year end result for 2022 – record-high... Read more
(Posted on 06/05/23)
EMS-Tech, a leading provider of custom designed bulk material handling systems, has opened a new office... Read more
(Posted on 02/05/23)
Technology group Wärtsilä and DNV's industry cloud platform Veracity have entered a... Read more