GTMaritime reaches 15,000-vessel milestone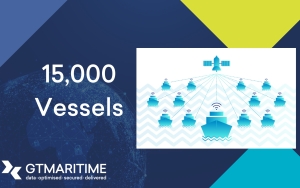 (Posted on 26/09/23)
Leading provider of secure maritime data communications software, GTMaritime, has reached 15,000 installations amid accelerating growth in demand for secure and reliable maritime software solutions. The news comes just 16 months after the company announced that it had passed the 10,000-vessel milestone.
Richard White, Global Commercial Director, GTMaritime, said: "Over the past few years, we have witnessed rapid growth in the volume of data handled by vessels, and this trend only appears to be speeding up. The introduction of IMO 2021 cyber-security regulations plus the ongoing digitalisation and decarbonisation of the global fleet are amplifying demand for secure, reliable solutions that can handle increased data loads and integrate seamlessly into ship operations."
GTMaritime offers ship owners and operators a portfolio of future-proof data communications solutions for email, file transfer, software deployment and cyber security. Specifically designed to overcome the challenges of remote connectivity, the solutions provide seamless integration with shore-based tools, which can be managed via GTMaritime's single fleetwide management dashboard.
"Reaching 15,000 installations is another major milestone for us in what is proving to be an exciting period for the company," said Chris Judge, Managing Director, GTMaritime. "The fact it comes just 16 months after we hit the 10-vessel mark reflects both the surging demand for secure, maritime-optimised software solutions and the hard work and commitment of the GTMaritime team.
"I would like to express my gratitude to our customers for their continued loyalty, and to our colleagues, partners and resellers for helping our products to reach such a wide and diverse maritime audience."
In another boost for the company, GTMaritime recently received certification to the ISO/IEC 27001 international standard for information security management systems. ISO/IEC 27001 certification confirms that an organisation takes a comprehensive approach to managing security risks and preserving the confidentiality, integrity and availability of the data it owns and handles.
Latest News
(Posted on 07/12/23)
ClassNK has issued Approvals in Principle (AiPs) for four cutting-edge ship designs developed by Marine... Read more
(Posted on 07/12/23)
A smartship partnership bringing together ship management company Laskaridis Shipping, digital technology... Read more
(Posted on 07/12/23)
ABB has launched a new digital tool allowing shipowners, operators and designers to estimate the emission... Read more
(Posted on 03/12/23)
The Dry Bulk and LNG segments have borne the brunt of restricted transits, particularly due to their... Read more
(Posted on 03/12/23)
Columbia Shipmanagement (CSM) is set to further boost operational efficiency on its vessels, as crew... Read more
(Posted on 26/11/23)
Shi.E.L.D. Services has selected Spinergie as its preferred digitized solution provider to monitor and... Read more
(Posted on 26/11/23)
Thousands of cadets and trainees in India will benefit from in-depth wellness training and support thanks... Read more
(Posted on 17/11/23)
As shipping continues its journey to decarbonisation, INTERCARGO will host a special forum in Athens... Read more
(Posted on 13/11/23)
INTERCARGO was deeply saddened and concerned to hear of the reported appalling missile attack on the... Read more
(Posted on 13/11/23)
A new-look Wellness at Sea Awareness Campaign for seafarers, their families and shore staff that &ldquo... Read more