Great Eastern adds to bulk fleet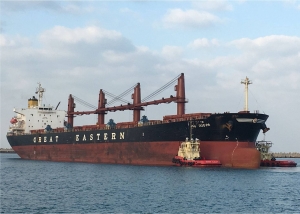 (Posted on 17/03/21)
The Great Eastern Shipping Company Limited (G E Shipping) has signed a contract to buy a second-hand Supramax Bulk Carrier of about 56,103 dwt. The 2013 Japanese built vessel is expected to join the Company's fleet in Q1 FY22. Currently, no further details have been revealed.
Excluding this vessel, the Company's current fleet stands at 46 vessels, comprising 32 tankers (9 crude carriers, 18 product tankers, 5 LPG carrier) and 14 dry bulk carriers with an average age of 11.77 years aggregating 3.69 mn dwt. The company has contracted to sell its 2006 built Supramax Bulk Carrier "Jag Roopa" which is expected to be delivered to the buyers in Q4 FY2020-21.
G E Shipping is India's largest private sector shipping service provider enjoying a formidable presence in the international maritime industry. The shipping business operates under two main businesses: dry bulk carriers and tankers.
Backed by an enviable clientele comprising industry leaders, international oil companies and governments who vouch for its services, the division has earned the status of being the most preferred shipping service provider. With a pulse on the global market and a thorough understanding of the ever-evolving market needs, the division is well-equipped to anticipate the demands of its clients and to deliver on its commitments, successfully and satisfactorily.
Last month the company took delivery of a second-hand Capesize Bulk Carrier "Jag Alaia" of about 180,694 dwt. The company had contracted to buy the vessel in Q3 FY21.
Latest News
(Posted on 20/03/23)
AXSMarine, a pioneer and market leader in the provision of advanced solutions for shipping professionals... Read more
(Posted on 20/03/23)
Shipzero is enabling transport and logistics companies to create transparency about their emissions... Read more
(Posted on 07/03/23)
The Isle of Man Ship Registry (IOMSR) has become an associate member of The International Association... Read more
(Posted on 07/03/23)
The wellbeing of crew members is becoming more important to shipping companies says leading catering... Read more
(Posted on 28/02/23)
Canada based Algoma Central Corporation has reported its results for the year ended 31 December, 2022... Read more
(Posted on 24/02/23)
Ukrainian seafarers have largely returned to international shipping thereby restoring balance in crew... Read more
(Posted on 24/02/23)
The Chairs of the Round Table of International Shipping Associations met in Athens last week to renew... Read more
(Posted on 21/02/23)
AXSMarine, a leading provider of SaaS shipping software and data for decision making in the chartering... Read more
(Posted on 20/02/23)
Algoma Central Corporation and The CSL Group, who together form the CSL International Pool have announced... Read more
(Posted on 20/02/23)
Swiss marine power company WinGD has launched a pilot project for a new engine diagnostics solution... Read more