Government must save British Steel - Union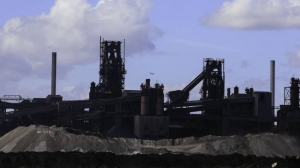 (Posted on 23/05/19)
TSSA General Secretary, Manuel Cortes, has written to the UK Government calling on Ministers to "do everything necessary to secure jobs at British Steel and safeguard the future of this strategically important business." TSSA is an independent trade union for the transport and travel trade industries.
Cortes has written directly to Secretary of State for Business, Energy and Industrial Strategy – Greg Clark – after it emerged that British Steel is on the verge of administration. British Steel has since been placed in compulsory liquidation, putting 5,000 jobs at risk and endangering 20,000 in the supply chain.
The move follows a breakdown in rescue talks between the government and the company's owner, Greybull.
In his letter Manuel Cortes writes that "British Steel has supplied Network Rail with more than half a million tonnes of high-quality rail over the past five years" - that's 95 per cent of Network Rail's requirement.
"In September British Steel signed a two-year contract extension to supply Network Rail with a further 4,000km of rail."
Cortes goes on to point out that British Steel is "vital to the development, maintenance and growth of this country's transport infrastructure as the only domestic producer of rail. It would be unthinkable to have to rely on overseas imports of rail in this safety-critical industry. If this Government is serious about industrial strategy then this is the time to deliver."
Further to his letter Cortes has today said that "the Scunthorpe plant produces world class rails and that if the plant – a key part of a core industry – is not saved we will have to import rails while former workers languish on the dole queue."
Cortes has called for an urgent meeting with Greg Clark to discuss the points he raises in the letter.
Latest News
(Posted on 28/03/23)
Fertilizers Europe has called on EU co-legislators to ensure that clean fertilizer and ammonia production... Read more
(Posted on 24/03/23)
BHP and global engineering, project management and professional services firm, Hatch, have signed an... Read more
(Posted on 20/03/23)
Rio Tinto increased its spend with Australian suppliers to more than A$15.3 billion in 2022, as part... Read more
(Posted on 20/03/23)
Trafigura Group Pte Ltd., a market leader in the global commodities industry, has announced the closing... Read more
(Posted on 07/03/23)
Nexyst 360, an innovative grain transportation solution provider, has partnered with Nexxiot to digitalize... Read more
(Posted on 28/02/23)
Cargill has announced the appointments of Joanne Knight as Chief Financial Officer (CFO) and Philippa... Read more
(Posted on 24/02/23)
Trafigura, a market leader in the global commodities industry, has entered into a USD 500 million five... Read more
(Posted on 22/02/23)
British Steel has announced proposals to close its coke ovens as part of its drive to overcome global... Read more
(Posted on 20/02/23)
Global miner Rio Tinto and Japanese trader and business conglomerate Marubeni Corporation have agreed... Read more
(Posted on 20/02/23)
Trafigura, a market leader in the global commodities industry, and Ecobat, the global leader in battery... Read more