FPC orders two new Siwertell unloaders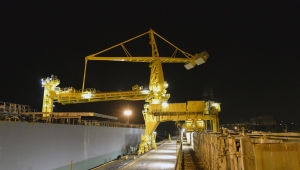 (Posted on 24/02/21)
Bruks Siwertell has received an order for two 640 D-type Siwertell ship unloaders from Formosa Plastics Corporation (FPC), part of the Taiwanese conglomerate, Formosa Plastics Group, which will bring the total number of continuous screw-type Siwertell unloaders operated by the company to thirteen. The new totally enclosed unloaders will be installed at Kaohsiung Port, in southern Taiwan, where they will offer the efficient, environment-friendly handling of salt.
"The order makes FPC one of our biggest repeat Siwertell equipment customers and we are delighted that they have returned to our technology once again," says Per Karlsson, President, Bruks Siwertell AB. "We are confident that our continuous mechanical ship unloaders offer the very best that the market can deliver, particularly when handling difficult materials at high capacities."
The new rail-mounted units will be used to unload salt, a source of chlorine, which is used in the manufacture of many types of plastics. They offer a continuous rated capacity of 1,000t/h and will discharge vessels up to 80,000 dwt. "Our reputation for the reliable handling of salt is strengthened by the fact that FPC already successfully uses Siwertell ship unloaders to handle it. This was one of the main reasons why it approached us again," explains Karlsson. "In particular, FPC's good experience with two of our unloaders at its Mai-Liao facility in Taiwan; one of which was delivered in 2006, and another in 2015."
Like the Mai-Liao unloaders, the latest pair will feature design additions to enhance their efficiency and enable them to withstand the corrosive effects of salt. These will include an optimized inlet feeder, specifically developed for unloading salt and making it ideal for handling compacted materials at a high discharge rate.
"With any unloader tasked with handling salt, corrosion has to be one of the major considerations," notes Karlsson. "Other unloading technologies used for this material cannot match the capabilities of a Siwertell unloader and its long maintenance intervals, which is why we can maximize equipment availability and through-ship performance, and keep maintenance costs as low as possible."
The two unloaders will arrive fully assembled at Kaohsiung Port's jetty number 16 on a heavy lift vessel and are due to be mounted on the rails, commissioned and fully operational by the end of 2022.
Latest News
(Posted on 26/11/23)
VIKING Life-Saving Equipment, a global leader in maritime safety solutions, is launching an innovative... Read more
(Posted on 26/11/23)
Damen's client Gerdes Green has received a subsidy from the German Government for the investment... Read more
(Posted on 17/11/23)
A first of its kind training course for the Middle East has been held to teach mariners about the basic... Read more
(Posted on 13/11/23)
Wärtsilä ANCS, part of technology group Wärtsilä, has delivered to Seaspan, a marine... Read more
(Posted on 31/10/23)
The flag raising ceremony for three new ASD Tugs has taken place in Gdansk, Poland. In the presence... Read more
(Posted on 26/10/23)
A new immersive crane simulator that can recreate high-risk scenarios without putting drivers or other... Read more
(Posted on 23/10/23)
Vesto Ropes, a global leader in innovative steel wire-rope solutions, has announced a strategic partnership... Read more
(Posted on 23/10/23)
Bedeschi S.p.a. has been awarded a contract for the design and supply of a new longitudinal storage... Read more
(Posted on 18/10/23)
Rhenus Maritime Services (RMS) is adding a new coastal vessel to its fleet in the shape of the RMS Ruhrort... Read more
(Posted on 18/10/23)
Dualog, a leading maritime software provider, has introduced a major enhancement to the Dualog Drive... Read more