Fossil-free steel pioneered in cargo handling industry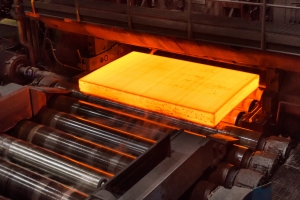 (Posted on 07/09/21)
Cargotec and SSAB have agreed to work on the introduction of fossil-free steel to the cargo handling industry. The intent outlines that the companies will start coordinated development toward the use of SSAB's fossil-free steel in Cargotec's cargo handling equipment.
Cargotec's business areas Kalmar, Hiab and MacGregor are pioneers in their fields. Through their unique position in ports, at sea and on roads, they optimise global cargo flows and create sustainable customer value. Cargotec
This is a strategic partnership for the benefit of both parties and end customers. It represents a significant milestone in moving toward a sustainable development and a fossil-free product offering.
"I am proud that we are paving the way in the cargo handling industry through commitment to using fossil-free steel and have this unique opportunity to work with a forerunner in fossil-free steel development. This is an important step towards our vision of becoming a leader in sustainable cargo flow," says Mika Vehviläinen, CEO of Cargotec.
"We are happy to welcome Cargotec as a partner for fossil-free steel products. Close collaboration with the development of a fossil-free value chain means we contribute to strengthening our customers' competitiveness and to reducing their carbon footprint. Together, we also ensure the best solutions for end users," says Martin Lindqvist, President and CEO of SSAB.
Steel and steel components are the main contributors for CO2 footprint at Cargotec's scope 3 (value chain) upstream emissions. The total CO2 footprint comprises upstream emissions, which account for over a third of Cargotec's total emissions, emissions from own operations (scope 1 and 2), and emissions from the use-phase of the products (scope 3 downstream). Fossil-free steel has significantly lower environmental impact and hence, contributes towards a carbon neutral value chain. It has been estimated that steel demand will increase in the future and hence, meeting this demand requires development and usage of fossil-free steel alternatives.
Latest News
(Posted on 07/12/23)
Rio Tinto has approved a $77 million (A$110 million) pre-feasibility study (PFS) to progress development... Read more
(Posted on 03/12/23)
Rio Tinto and Giampaolo Group have completed a transaction to form the Matalco joint venture, combining... Read more
(Posted on 03/12/23)
Khalifa Economic Zones Abu Dhabi – KEZAD Group, the largest operator of integrated and purpose... Read more
(Posted on 26/11/23)
ADM, a leader in sustainable agriculture supply chains, has announced an important expansion of its... Read more
(Posted on 17/11/23)
Trafigura, a market leader in the global commodities industry, has agreed to invest in an all-in-one... Read more
(Posted on 17/11/23)
ADM and Marathon Petroleum Corp. have celebrated the opening of their joint venture soybean processing... Read more
(Posted on 13/11/23)
Former U.S. Grains Council (USGC) Director of Global Programmes Alejandra Castillo was named the successor... Read more
(Posted on 13/11/23)
Rio Tinto has completed the acquisition of PanAmerican Silver's stake in Agua de la Falda and... Read more
(Posted on 05/11/23)
Cargill has completed an expansion and modernization project at its integrated soybean crush and refined... Read more
(Posted on 31/10/23)
BHP has approved an investment of US$4.9 billion (C$6.4 billion) for stage two of the Jansen potash... Read more