Flow Water to reduce plastics at sea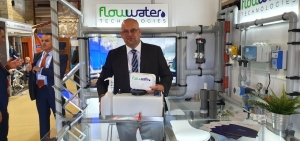 (Posted on 09/10/19)
FlowSafe DCD2000 eliminates need to carry plastic-bottled drinking water and additional chemicals for on-board, and provides all necessary water for cooking.
LFlow Water Technologies has developed the FlowSafe DCD2000 Combined Drinking Water and Disinfection Unit to cater for all types and sizes of vessel.
The system was developed following close collaboration with Flow Water, leading ship owners, and ship management companies.
"It was made clear to us that what was wanted was a unit that delivered 'no plastics at sea to save the environment while maintaining the health of the seafarer'," said Mark Hadfield, Chief Executive Officer (CEO), Flow Water Technologies Ltd.
In an innovative approach, FlowSafe DCD2000 uses commercial level pre-filtration in front of specially selected ultra-filtration.
The Pre-filtration process is straight forward and the filters are simple and quick to change.
"The disinfection part of FlowSafe DCD2000 ensures endless amounts of cleaning and disinfection control to clean and sanitise all the drinking water units along with endless amounts of liquid to clean the whole crew quarters of the vessel including the galley," said Hadfield.
FlowSafe DCD2000 has already been awarded all correct approval certificates.
Flow Water Technologies will be demonstrating FlowSafe DCD2000 at the upcoming Maritime Cyprus 2019 Conference.
Earlier this year Flow Water Technologies launched FlowSafe, the carbon neutral ballast water management system, which can be installed at sea and runs at close to zero costs.
Flow Water Technologies Ltd, headquartered in Limassol, Cyprus, is dedicated to practical water treatment on board vessels.
Flow Water has its own on-site training facility, the Flow Water Academy, developed in association with Frederick University, Cyprus, to give students hands-on education and experience in the water ballasting process.
Latest News
(Posted on 26/11/23)
VIKING Life-Saving Equipment, a global leader in maritime safety solutions, is launching an innovative... Read more
(Posted on 26/11/23)
Damen's client Gerdes Green has received a subsidy from the German Government for the investment... Read more
(Posted on 17/11/23)
A first of its kind training course for the Middle East has been held to teach mariners about the basic... Read more
(Posted on 13/11/23)
Wärtsilä ANCS, part of technology group Wärtsilä, has delivered to Seaspan, a marine... Read more
(Posted on 31/10/23)
The flag raising ceremony for three new ASD Tugs has taken place in Gdansk, Poland. In the presence... Read more
(Posted on 26/10/23)
A new immersive crane simulator that can recreate high-risk scenarios without putting drivers or other... Read more
(Posted on 23/10/23)
Vesto Ropes, a global leader in innovative steel wire-rope solutions, has announced a strategic partnership... Read more
(Posted on 23/10/23)
Bedeschi S.p.a. has been awarded a contract for the design and supply of a new longitudinal storage... Read more
(Posted on 18/10/23)
Rhenus Maritime Services (RMS) is adding a new coastal vessel to its fleet in the shape of the RMS Ruhrort... Read more
(Posted on 18/10/23)
Dualog, a leading maritime software provider, has introduced a major enhancement to the Dualog Drive... Read more