First Silk Road train arrives at Antwerp carrying industrial minerals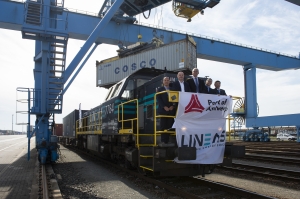 (Posted on 14/05/18)
The first Silk Road train exclusively destined for Antwerp arrived on Saturday 12 May. The freight train, which had left the Chinese port of Tangshan on 26 April, was officially welcomed in the port of Antwerp. This direct railway link between China and Antwerp is part of the transnational Chinese 'Belt and Road Initiative', with which China seeks to revive the trade routes of the old Silk Road from Asia to Europe.
The train is part of the 'Belt & Road Initiative' (BRI), the ambitious development programme of Chinese President Xi Jinping. The initiative provides for enhanced Eurasian connectivity through major infrastructure projects and restoration of the Silk Road, the historic trade route between Europe and the Far East which, in addition to the traditional maritime link, an efficient land bridge link.
The train left the Chinese port of Tangshan on 26 April and travelled via the border crossing of Alashankou, Kazakhstan, Belarus, Poland and Germany to reach its final destination, the port of Antwerp, after 16 days and having covered a distance of 11,000 km. It is the fist ever direct train from China to Antwerp.
The service is an initiative of Tangshan City & Tangshan Port, in collaboration with the Chinese state-owned shipping company Cosco Shipping Lines and the Chinese Railways (CRCT).
The consignee is Cosco Shipping Belgium, which will ensure the forwarding to the end customers. The train is loaded with a total of 34 containers, containing industrial minerals for use in various industries and productions such as paper and ceramics, toothpaste and cosmetics. They are unloaded at Euroports, which will transport them to their bulk terminal for subsequent distribution in Europe.
Luc Arnouts, Director International Networks, Antwerp Port Authority said, "This direct train link puts our port on the BRI map and will further strengthen our ties with China. We have long been working on this project, which represents an important milestone in our trade relations with China."
Marc Van Peel, port alderman, adds: "China is the fourth biggest partner country for Antwerp, with an annual traffic volume of nearly 14 million tonnes of goods. Antwerp is ideally located on both the maritime route and the rail route between Europe and China, and our port is perfectly capable of acting as a transhipment port for trade between China and Africa via rail link."
Geert Gekiere, Managing Director Euroports Belgium said, "We are proud and honoured to have the privilege of unloading and further handling the majority of the load of this first direct train between China and Antwerp. We encourage our customers to optimise their supply chain, which is why virtually all of our terminals support both road, rail and water connections. Transport from the Tangshan region via conventional container ships on average takes +35 days, but this train manages to do it in a record time of 16-20 days, and at relatively low costs."
Latest News
(Posted on 28/03/23)
Canadian Pacific has said that, on 14 April, 2023, it will exercise the authority granted by the U.S... Read more
(Posted on 24/03/23)
LOGISTEC Corporation, a leading marine and environmental services provider, has announced its financial... Read more
(Posted on 24/03/23)
Terence Bowles, President and CEO of the St. Lawrence Seaway Management Corporation (SLSMC), and Adam... Read more
(Posted on 20/03/23)
Abu Dhabi based AD Ports Group, the leading facilitator of global trade, logistics, and industry, has... Read more
(Posted on 20/03/23)
Grain handling at the Port of Immingham is increasing thanks to the new opportunities presented by investment... Read more
(Posted on 07/03/23)
Marcor Stevedoring has signed a contract adding Liebherr's largest and most powerful mobile harbour... Read more
(Posted on 07/03/23)
AD Ports Group, an Abu Dhabi based leading facilitator of global trade, logistics, and industry, and... Read more
(Posted on 02/03/23)
LOGISTEC Stevedoring Inc., a subsidiary of LOGISTEC Corporation, a leading North American marine and... Read more
(Posted on 28/02/23)
End-of-year figures for total traffic in the Spanish Port of Bilbao stand at 32.7 million tonnes, up... Read more
(Posted on 24/02/23)
The Port of Sept-Îles and LOGISTEC Arrimage Inc. have announced that they have reached the impressive... Read more