First-quarter returns from Port of Hamburg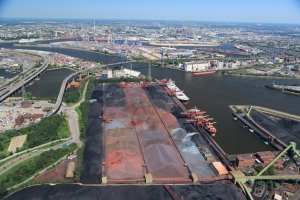 (Posted on 24/05/18)
This year's first-quarter throughput total was notable for a rise in conventional general cargoes, a lower figure of bulk cargoes, a stable trend in container handling and distinct growth on container transport services by rail.
In the first quarter of 2018, the Port of Hamburg achieved total throughput of 32.7m tonnes (down 7.5 per cent). In Hamburg this heading covers general cargo throughput of 22.7m tonnes (down 1.8 per cent) and bulk cargo throughput of 10m tonnes (down 18.2 per cent). In the bulk cargo throughput segment, it was impossible to match the fresh record throughput total of 12.2m tonnes achieved in the first quarter of 2017, with markets causing downturns in all three sub-segments: suction, grab and liquid cargoes. On the import side, general cargo handling at 11.5m tonnes was ahead by 3.1 per cent. At 11.2m tonnes (down 6.3 per cent), exports were somewhat weaker. The trend on conventional general cargo throughput proved highly satisfactory. Totalling 370,000 tonnes, first-quarter throughput here rose by 14.3 per cent, maintaining the upward trend started in the fourth quarter of 2017. Container handling in the first quarter of 2018 remained stable at 2.2m TEU (down 1.9 per cent), only just below the comparable figure for the previous year. At 612,000 TEU, container transport by rail achieved a notable advance of 4.1 per cent. Hamburg extended its leading position as Europe's largest rail port.
"A glance at handling trends for first-quarter handling of loaded and empty containers indicates that on the one hand, the Port of Hamburg still continues to gain cargoes, but on the other has to accept a sharp drop in the volume of empty containers. Against the background of the not yet implemented adjustment of the fairway of the Lower and Outer Elbe, shipowners are primarily using their slot capacities on ULCVs calling at Hamburg for loaded boxes. With general cargo volume almost equally balanced between import and export tonnage, Hamburg is extremely attractive for shipowners aiming for optimal utilization of their vessels. Whether for import or export, a mass of cargo beckons in Germany's largest port. By contrast with loaded boxes, empty ones are less port-related and routing these is therefore a more volatile process," explained Axel Mattern, Joint CEO of Port of Hamburg Marketing.
Latest News
(Posted on 24/03/23)
LOGISTEC Corporation, a leading marine and environmental services provider, has announced its financial... Read more
(Posted on 24/03/23)
Terence Bowles, President and CEO of the St. Lawrence Seaway Management Corporation (SLSMC), and Adam... Read more
(Posted on 20/03/23)
Abu Dhabi based AD Ports Group, the leading facilitator of global trade, logistics, and industry, has... Read more
(Posted on 20/03/23)
Grain handling at the Port of Immingham is increasing thanks to the new opportunities presented by investment... Read more
(Posted on 07/03/23)
Marcor Stevedoring has signed a contract adding Liebherr's largest and most powerful mobile harbour... Read more
(Posted on 07/03/23)
AD Ports Group, an Abu Dhabi based leading facilitator of global trade, logistics, and industry, and... Read more
(Posted on 02/03/23)
LOGISTEC Stevedoring Inc., a subsidiary of LOGISTEC Corporation, a leading North American marine and... Read more
(Posted on 28/02/23)
End-of-year figures for total traffic in the Spanish Port of Bilbao stand at 32.7 million tonnes, up... Read more
(Posted on 24/02/23)
The Port of Sept-Îles and LOGISTEC Arrimage Inc. have announced that they have reached the impressive... Read more
(Posted on 24/02/23)
The war in Ukraine led to unprecedented changes in goods flows last year. At 467.4 million tonnes, total... Read more