First maritime slips, trips and falls poster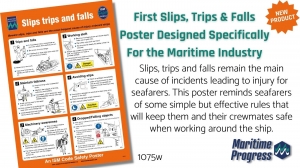 (Posted on 11/05/21)
Maritime Progress, a major player in the photoluminescent marine signage arena has developed a new Slips, Trips & Falls poster designed specifically for the Marine Industry.
Deborah Egan, Director commented "Slips, trips, and falls remain the main cause of incidents leading to injury for seafarers but the unique nature of the hazards and conditions Seafarers find themselves working in meant there wasn't a safety guidance poster suitable for this unique environment, until now."
This maritime safety poster reminds seafarers of some simple but effective rules that will keep them and their crewmates safe when working around the ship.
The poster also introduces another and often overseen hazard common to the Marine Industry, that of dropped objects. Dropped objects could be from a person working aloft or a loose item on a suspended load or crane.
The carefully illustrated poster clearly displays safety tips for the marine environment covering:
Trips and falls
Working aloft
Maintain tidiness
Avoiding slips
Machinery awareness
Dropped/Falling objects
The 480mm x 300mm poster is available in vinyl, rigid plastic and photoluminescent material from the Maritime Progress website: www.maritimeprogress.com/product/slips-trips-and-falls-poster/
Maritime Progress was formed in 1985 and was initially a joint venture between The College of Maritime Studies in Warsash, Southampton (Britain's premier Maritime College serving the International Maritime Shipping Industry) and Atlantic Technical Services, producing technical documentation for the marine industry. In 1994 the company became part of a group under the holding company Warnstar Ltd. Warnstar as well as an umbrella brand for the group, operates in the bespoke signage and printing arena, providing custom and promotional printed signs and products. 2001 saw the development of Signs for Safety, bringing together the extensive range of off the shelf safety signs. In 2008 Telegan Pressed Products joined the group, manufacturing pressed PVC sheets. As a whole, the group produce marine signage & technical manuals, general signage & print (including large format and promotional printed goods), safety signs and industrial products.
Latest News
(Posted on 05/06/23)
DNV's latest white paper "Biofuels in shipping" finds that the flexibility of biofuels can... Read more
(Posted on 05/06/23)
Shipping is so global, that only a truly global regulator such as the International Maritime Organization... Read more
(Posted on 02/06/23)
Technology group Wärtsilä will partner with Transworld Group to apply the most advanced decarbonisation... Read more
(Posted on 02/06/23)
Global healthcare specialist VIKAND has appointed Ronald Spithout as its Managing Director for VIKAND... Read more
(Posted on 31/05/23)
The Columbia Group has underlined its commitment to the burgeoning Turkish maritime cluster by opening... Read more
(Posted on 31/05/23)
ClassNK has granted its Innovation Endorsement for Products and Solutions to Inmarsat's Fleet... Read more
(Posted on 23/05/23)
The International Association of Dry Cargo Shipowners (INTERCARGO) has reached an historic membership... Read more
(Posted on 23/05/23)
Competition authorities have now approved the merger of OSM Maritime Group and Thome Group. The merged... Read more
(Posted on 17/05/23)
A new report from DNV and Lloyd's List Intelligence, "Maritime safety trends 2012-2022:... Read more
(Posted on 17/05/23)
Damen Services has opened its twelfth service hub, located in South-East Asia at Damen Song Cam shipyard... Read more