Fednav's hometown commitment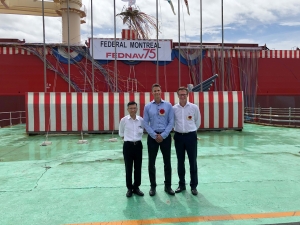 (Posted on 03/09/19)
Fednav Limited has taken delivery of the Federal Montreal, its newest Great Lakes-suitable handysize vessel, at the Oshima Shipyard in Japan. The ceremony was attended by senior management from both Fednav and the shipyard.
The Federal Montreal is a 34,500 DWT international ice-class bulk carrier, flagged in the Marshall Islands. Built to trade in the St. Lawrence River and the Great Lakes, the vessel is certified by DNV GL (the 50th Fednav vessel classed by DNV GL) and is equipped with the latest environmental protection technology.
Named in honour of the city Fednav calls home, the Federal Montreal is the company's first ship ever to bear the name of a city.
"Montreal is Canada's transportation capital. By naming this new vessel the Federal Montreal, we wanted to communicate our commitment to our city, the city of our headquarters and my hometown," said Paul Pathy, President and CEO of Fednav. "This dedication to our city is a testimony of our commitment to the economy of Montreal and the whole country and to our customers, employees, and partners, showing that Fednav will always deliver a higher standard."
"The years of close cooperation between Oshima, Fednav, and DNV GL have forged a partnership that has grown stronger and stronger over the years," said Knut Ørbeck-Nilssen, CEO of DNV GL – Maritime. "Our shared values and passion for safety, innovation and quality enables the continuing delivery of exceptional vessels. I am very honoured to take part in the celebrations of Oshima's delivery of Fednav's 50th DNV GL classed vessel and Fednav's 75th anniversary."
Celebrating its 75th anniversary this year, Fednav Limited is Canada's largest international bulk shipping company. Its fleet is comprised of close to 125 bulk carriers trading worldwide, 65 of these are owned. From offices on four continents, the company operates the largest fleet of Great Lakes-suitable ocean-going vessels, the largest fleet in the world of ice-class bulk carriers, and three icebreaking cargo ships that service the Arctic year round.
Latest News
(Posted on 03/12/23)
The Dry Bulk and LNG segments have borne the brunt of restricted transits, particularly due to their... Read more
(Posted on 03/12/23)
Columbia Shipmanagement (CSM) is set to further boost operational efficiency on its vessels, as crew... Read more
(Posted on 26/11/23)
Shi.E.L.D. Services has selected Spinergie as its preferred digitized solution provider to monitor and... Read more
(Posted on 26/11/23)
Thousands of cadets and trainees in India will benefit from in-depth wellness training and support thanks... Read more
(Posted on 17/11/23)
As shipping continues its journey to decarbonisation, INTERCARGO will host a special forum in Athens... Read more
(Posted on 13/11/23)
INTERCARGO was deeply saddened and concerned to hear of the reported appalling missile attack on the... Read more
(Posted on 13/11/23)
A new-look Wellness at Sea Awareness Campaign for seafarers, their families and shore staff that &ldquo... Read more
(Posted on 05/11/23)
Classification society DNV has entered into a Joint Development Project (JDP) with AL Group and its... Read more
(Posted on 31/10/23)
Samsung Heavy Industries (SHI) and leading classification society DNV have inked a Memorandum of Understanding... Read more
(Posted on 31/10/23)
WISTA International, during its Annual General Meeting (AGM) held in Montevideo, Uruguay, on 25 October... Read more