EUROFER welcomes Turkish steel registration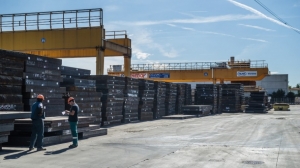 (Posted on 23/11/20)
The European Steel Association (EUROFER) has welcomed the start of the registration of Turkish hot-rolled steel imports. This could potentially lead to the retroactive application of anti-dumping duties that are normally scheduled for January 2021.
Given the rules laid down in the basic trade defence regulation, the registration of imports is a condition for retroactive application of anti-dumping of possible provisional duties in January. The registration helps avoid opportunistic import surges ahead of the imposition of later duties. Practically, any imports entering the EU from Turkey as of 14 November 2020 could be subject to anti-dumping duties in the future.
"Anti-dumping procedures are slow and time consuming to deploy", said Axel Eggert, Director General of EUROFER. "While the fourteen-month long investigation is ongoing imports will remain volatile and can quickly disrupt the EU market. Registration is, thus, a critical tool to ensure the effectiveness of EU trade defence instruments."
The request for registration was submitted by EUROFER in September 2020, following an anti-dumping complaint submitted in May 2020. This anti-dumping case should yield conclusions in January 2020.
EUROFER AISBL is located in Brussels and was founded in 1976. It represents the entirety of steel production in the European Union. EUROFER members are steel companies and national steel federations throughout the EU. The major steel companies and national steel federations in Switzerland and Turkey are associate members.
The European steel industry is a world leader in innovation and environmental sustainability. It has a turnover of around €170 billion and directly employs 330,000 highly-skilled people, producing on average 160 million tonnes of steel per year.
Latest News
(Posted on 27/01/23)
Cargill has announced that it has completed the acquisition of Owensboro Grain Company, a fifth-generation... Read more
(Posted on 23/01/23)
BHP Xplor, an accelerator programme introduced by BHP in August 2022, has announced its first cohort... Read more
(Posted on 16/01/23)
Trafigura Group Ptd Ltd., a market leader in the global commodities industry, has made a public carbon... Read more
(Posted on 10/01/23)
Jace Hefner has joined the U.S. Grains Council (USGC) in its Washington, D.C., headquarters as the new... Read more
(Posted on 10/01/23)
Cargill has announced that Jamie Miller will step down as Chief Financial Officer to accept an opportunity... Read more
(Posted on 10/01/23)
Adbri Limited has announced that it has extended its cementitious materials supply arrangement with... Read more
(Posted on 04/01/23)
Khalifa Economic Zones Abu Dhabi – KEZAD Group, the integrated trade, logistics, and industrial... Read more
(Posted on 23/12/22)
Australian agribusiness GrainCorp is co-leading a $12 million investment round into rural connectivity... Read more
(Posted on 20/12/22)
BHP has provided an update to its announcement on 18 November 2022 that confirmed BHP had entered into... Read more
(Posted on 20/12/22)
Rio Tinto has appointed Kaisa Hietala as a non-executive director. Ms Hietala, a Finnish citizen, will... Read more