EUROFER condemns US tariffs and calls for safeguards to counter 'Section 232 effect'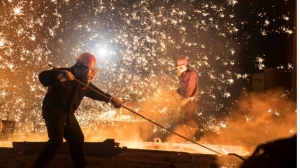 (Posted on 01/06/18)
US Commerce Secretary Wilbur Ross has announced that the US' Section 232 tariffs will now hit EU steel. As of today, 1 June, the EU will face a 25% tariff on its exports of the metal to the US.
The European Steel Association (EUROFER) has condemned the US action and called on the Commission to swiftly adopt safeguard measures that are broad in scope, comprehensive in the countries covered, but that ensure access to traditional trade flows.
EUROFER is located in Brussels and was founded in 1976. It represents the entirety of steel production in the European Union.
"The US measure is naked protectionism – a bad day for the world trade system", said Axel Eggert, Director General of EUROFER. "However, what's done is done – the US' administration seems not to believe that being close, political, economic and geo-strategic partners is sufficient grounds to prevent the EU from being hit".
"The EU thus needs to act swiftly in its own interest to defend the internal market from the 'Section 232 effect' – the impact of steel deflected from the US border to the largest open steel market in the world: Europe's", stressed Mr Eggert.
"EUROFER calls for a quickly-deployed safeguard that covers the full product scope that will be affected – and warns that there cannot be country exclusions if the safeguard is to function. However, the purpose is not to exclude imports: it is preventative remedial action against the threat posed by import surges", added Mr Eggert.
In the first four months of the 2018, imports have surged by 8.4%, almost certainly as a result of the Section 232 effect. 2017 already represented a high-water mark for imports into the EU – making rapid corrective remedial action all the more imperative.
"We regret that the US has taken this unnecessarily damaging step. We support the Commission in its responses to the US' trade action – and urge all EU stakeholders to remain united in order to face down both the US' measure and the incoming inundation of deflected steel products", concluded Mr Eggert.
The European steel industry has a turnover of around €170 billion and directly employs 320,000 highly-skilled people, producing on average 160 million tonnes of steel per year. More than 500 steel production sites across 22 EU Member States provide direct and indirect employment to millions more European citizens.
EUROFER members are steel companies and national steel federations throughout the EU. The major steel companies and national steel federations in Switzerland and Turkey are associate members.
Latest News
(Posted on 20/03/23)
Rio Tinto increased its spend with Australian suppliers to more than A$15.3 billion in 2022, as part... Read more
(Posted on 20/03/23)
Trafigura Group Pte Ltd., a market leader in the global commodities industry, has announced the closing... Read more
(Posted on 07/03/23)
Nexyst 360, an innovative grain transportation solution provider, has partnered with Nexxiot to digitalize... Read more
(Posted on 28/02/23)
Cargill has announced the appointments of Joanne Knight as Chief Financial Officer (CFO) and Philippa... Read more
(Posted on 24/02/23)
Trafigura, a market leader in the global commodities industry, has entered into a USD 500 million five... Read more
(Posted on 22/02/23)
British Steel has announced proposals to close its coke ovens as part of its drive to overcome global... Read more
(Posted on 20/02/23)
Global miner Rio Tinto and Japanese trader and business conglomerate Marubeni Corporation have agreed... Read more
(Posted on 20/02/23)
Trafigura, a market leader in the global commodities industry, and Ecobat, the global leader in battery... Read more
(Posted on 13/02/23)
Hydrogen is at the core of the green steel transition. Ensuring access to this scarce resource &ndash... Read more
(Posted on 08/02/23)
Tata Steel has established a Centre for Innovation in Mining and Mineral Beneficiation at the Indian... Read more