Ecobat announces sale of Stolberg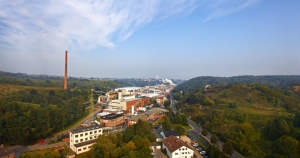 (Posted on 18/07/22)
Ecobat, the global leader in battery recycling, and Trafigura, a leading global supplier of commodities, are pleased to announce that they have entered into a binding agreement for the sale of Ecobat Resources Stolberg GmbH (ERS) which owns the Stolberg multi-metals processing plant in Germany. The Stolberg plant will be operated and managed by Nyrstar, an international multi-metals mining and smelting company and market leader in the production of zinc and lead metal. Nyrstar is 98 percent owned by the Trafigura Group.
Ecobat is a leader in the collection, recycling, production, and distribution of energy storage solutions. It has operations in Europe, the United States, and Africa, and focuses on lead and lithium battery collection and recycling management services to empower sustainability efforts around the world.
"The sale of ERS is consistent with our strategy to concentrate on our core business of battery recycling and represents a significant step in the rationalization of our portfolio," said Marcus Randolph, CEO of Ecobat.
"Combining the Stolberg plant with Nyrstar, which operates three European zinc smelters within a 300-kilometer radius of the Stolberg plant, offers a unique opportunity to leverage several of Nyrstar's by-products as feed material for the Stolberg multi-metal business, offering locally produced strategic materials to Europe's critical growth markets with a reduced carbon footprint and increased efficiency," said Daniel Vanin, CEO of Nyrstar. "We look forward to welcoming the highly engaged Stolberg team to Nyrstar and are excited to continue to grow a business which offers highly relevant materials for the fast-evolving European green transition."
The transaction is subject to the satisfaction of customary conditions precedent including the receipt of certain regulatory approvals. Completion is expected to occur in the third quarter of 2022.
Latest News
(Posted on 03/12/23)
Rio Tinto and Giampaolo Group have completed a transaction to form the Matalco joint venture, combining... Read more
(Posted on 03/12/23)
Khalifa Economic Zones Abu Dhabi – KEZAD Group, the largest operator of integrated and purpose... Read more
(Posted on 26/11/23)
ADM, a leader in sustainable agriculture supply chains, has announced an important expansion of its... Read more
(Posted on 17/11/23)
Trafigura, a market leader in the global commodities industry, has agreed to invest in an all-in-one... Read more
(Posted on 17/11/23)
ADM and Marathon Petroleum Corp. have celebrated the opening of their joint venture soybean processing... Read more
(Posted on 13/11/23)
Former U.S. Grains Council (USGC) Director of Global Programmes Alejandra Castillo was named the successor... Read more
(Posted on 13/11/23)
Rio Tinto has completed the acquisition of PanAmerican Silver's stake in Agua de la Falda and... Read more
(Posted on 05/11/23)
Cargill has completed an expansion and modernization project at its integrated soybean crush and refined... Read more
(Posted on 31/10/23)
BHP has approved an investment of US$4.9 billion (C$6.4 billion) for stage two of the Jansen potash... Read more
(Posted on 31/10/23)
Rio Tinto and cable solution provider Prysmian are partnering to build a more sustainable North American... Read more