E-Crane and containerised bulk handling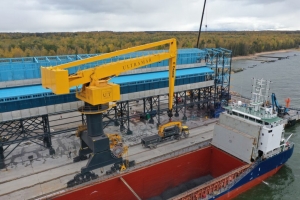 (Posted on 12/11/20)
A 4000C Series E-Crane with 42 meter outreach and 52 ton capacity has been successfully commissioned in the port of Ust-Luga in the Gulf of Finland, about 110 kilometres west of St. Petersburg. This 600 tons weighing giant crane will be mainly used for loading containerized bulk such as fertilizer, iron ore and HBI into ocean going vessels up to Panamax size.
Containerized Bulk Handling (CBH) technology is found in specialized bulk export ports. Using containers bulk can be transported by rail from a remote mine or production facility, then temporarily stored at the export terminal without having to unload the container and finally moved for loading to the ship using the same container. This concept allows the entire logistics chain from extraction to ship loading to be optimized using standardized container technology with minimal container (re)handling. The main benefit from introducing containerized bulk technology is a significant reduction of terminal expenses and overall increased terminal performance. Literature mentions savings from 20 up to 50% in equipment and labor. At the same time CBH is environmentally friendly (low dust emissions, no open air quay stacking of materials) and it eliminates cargo loss.
For loading the first vessel with the E-Crane, bulk materials were offloaded from railcars and loaded into the special-purpose open-top 20-foot containers. Once loaded, these containers were moved to the quay by terminal trucks using special designed dual 20 foot terminal chassis.The E-Crane subsequently picked the containers from the trailer bed using a revolving spreader. The entire content of the container was dumped into the ship by rotating the container 360 degrees. In order to avoid damage to the cargo and reducing dust emissions at the same time, the containers were lowered into the ship's hold and an operator controlled container rotation assured what is called 'bulk cargo soft loading'. Once emptied the container was quickly placed back on the trailer.
E-Crane created a versatile 'crane tool management system' allowing the crane to work with a multitude of different spreaders and grabs. The crane is equipped with a well-proven E-Crane rotator and quick-disconnect allowing to switch quickly between spreader/hook and grab thereby offering unprecedented versatility and flexibility to the terminal operator.
The crane operating at the Ust-Luga terminal has a high gantry portal allowing for free travel on the quay side thereby reducing costly dock space. E-Crane managing director ir. Lieven Bauwens said: "For this complex containerized bulk handling application E-Crane developed unique mechanical, hydraulic and software technology to speed-up and facilitate accurate container positioning. As always at E-Crane we kept the interface between crane and operator simple and straight forward allowing the operator to focus 100% on the job at hand. One more time E-Crane showed that complex technology should not make life more difficult. On the contrary! Our state-of-the-art technology has the single purpose to make the life of terminal- and crane operators more easy in ever more demanding and complex port operations."
Latest News
(Posted on 03/12/23)
Ship design, particularly the design of bulk carriers, presents particular challenges when it comes... Read more
(Posted on 26/11/23)
VIKING Life-Saving Equipment, a global leader in maritime safety solutions, is launching an innovative... Read more
(Posted on 26/11/23)
Damen's client Gerdes Green has received a subsidy from the German Government for the investment... Read more
(Posted on 17/11/23)
A first of its kind training course for the Middle East has been held to teach mariners about the basic... Read more
(Posted on 13/11/23)
Wärtsilä ANCS, part of technology group Wärtsilä, has delivered to Seaspan, a marine... Read more
(Posted on 31/10/23)
The flag raising ceremony for three new ASD Tugs has taken place in Gdansk, Poland. In the presence... Read more
(Posted on 26/10/23)
A new immersive crane simulator that can recreate high-risk scenarios without putting drivers or other... Read more
(Posted on 23/10/23)
Vesto Ropes, a global leader in innovative steel wire-rope solutions, has announced a strategic partnership... Read more
(Posted on 23/10/23)
Bedeschi S.p.a. has been awarded a contract for the design and supply of a new longitudinal storage... Read more
(Posted on 18/10/23)
Rhenus Maritime Services (RMS) is adding a new coastal vessel to its fleet in the shape of the RMS Ruhrort... Read more