Dunkerque posts sharp rise in trade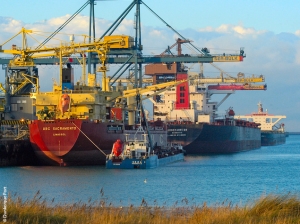 (Posted on 18/04/19)
After an exceptional month of March (5.22 MT), Dunkerque-Port has closed the first quarter pf 2019 with an increase in overall traffic of 5% compared with the previous year. With monthly traffic figures of more than 5 MT in March, Dunkerque-Port is approaching its historic monthly record established in April 2008 (5.29 MT), before the global economic crisis.
Dunkerque-Port is ranked thethird French port and is known as a port for heavy bulk cargoes for its numerous industrial facilities. It is also ranked seventh on the north European stretching ports from Le Havre to Hamburg and the first French port for imported ore and coal.
Volumes recorded at the LNG terminal were a contributing factor to this positive trend. At the end of March, LNG traffic already stood at 1.25 MT, equivalent to the tonnage recorded for the whole of 2018. In 3 months, the terminal has berthed 18 port calls by LNG tankers. As regards solid bulk, the grain trade is showing signs of recovery with accumulated traffic of 0.5 MT, up 45% over the previous year. Trade in small industrial bulk goods (excluding ore and coal) confirmed the positive trend observed since 2017, with traffic up by 21% at the end of March.
Finally, general cargo driven by containerized business was up 17% in the first quarter. Early in March the Terminal des Flandres berthed a record port call by the MV CMA CGM BLERIOT with 5,700 TEUs handled. Ms. Emmanuelle Verger, recently appointed Chair of the GPMD Supervisory Board, commented: "The current results of Dunkerque-Port validate the new economic model of the port, for which significant investments were made throughout the 2014-2018 Strategic Project.
The LNG terminal, inaugurated in January 2017, is gaining momentum. The new industrial sites that have started up in recent years are boosting trade in solid bulk. The increase in container traffic, which has been on-going since 2013, is expected to continue with the imminent start-up of the new berth in the container terminal."
Latest News
(Posted on 20/03/23)
Abu Dhabi based AD Ports Group, the leading facilitator of global trade, logistics, and industry, has... Read more
(Posted on 20/03/23)
Grain handling at the Port of Immingham is increasing thanks to the new opportunities presented by investment... Read more
(Posted on 07/03/23)
Marcor Stevedoring has signed a contract adding Liebherr's largest and most powerful mobile harbour... Read more
(Posted on 07/03/23)
AD Ports Group, an Abu Dhabi based leading facilitator of global trade, logistics, and industry, and... Read more
(Posted on 02/03/23)
LOGISTEC Stevedoring Inc., a subsidiary of LOGISTEC Corporation, a leading North American marine and... Read more
(Posted on 28/02/23)
End-of-year figures for total traffic in the Spanish Port of Bilbao stand at 32.7 million tonnes, up... Read more
(Posted on 24/02/23)
The Port of Sept-Îles and LOGISTEC Arrimage Inc. have announced that they have reached the impressive... Read more
(Posted on 24/02/23)
The war in Ukraine led to unprecedented changes in goods flows last year. At 467.4 million tonnes, total... Read more
(Posted on 24/02/23)
In Q3 2022, two port operating companies in Guyana – Muneshwers Ltd. and John Fernandes Ltd. &... Read more
(Posted on 20/02/23)
The Port of Trois-Rivières closed 2022 with a record number of goods handled. A total of 4.3... Read more