DUKC technology wins Victoria Export Award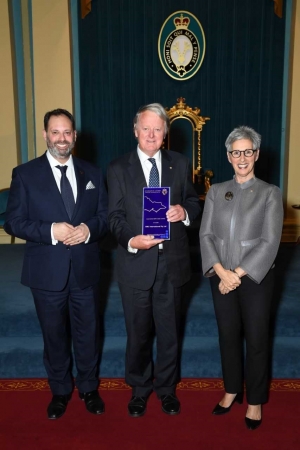 (Posted on 20/09/18)
Winning a prestigious 2018 Governor of Victoria Export Award further cements OMC International's reputation as the industry leader in under-keel clearance management, Executive Director Dr Terry O'Brien AM has said.
Dr O'Brien received the Business Services Award trophy from the Governor of Victoria, the Hon. Linda Dessau AC, at a reception at Government House on Friday 14 September.
The award was "For outstanding international success in the professional business services including ...engineering…".
"This is a fitting win for our company," Dr O'Brien said. "Our DUKC technology is widely recognised as World's Best Practice in under-keel clearance management and OMC continues to be awarded contracts due to our extensive experience and unmatched expertise in this field. DUKC systems have been proven to offer greater efficiency which increases our export dollars while ensuring safety.
"DUKC remains the most sophisticated UKC system and is recognised as the global standard in UKC management. Every 45 minutes somewhere in the world a ship sails under DUKC advice."
OMC's DUKC systems are installed in 30 ports around the world, including most Australian ports, and in New Zealand, Europe and North America, as well as in important waterways such as Torres Strait.
This Australian developed technology - which allows the shipping of more cargo, more safely, more often – is celebrating 25 years with an unblemished 25-year safety record of NO groundings or incidents. In that time, DUKC® technology has helped more than 160,000 ships worldwide to safely transit depth-restricted waterways and port approach channels and delivered more than US$10 billion in economic benefits to port users.
DUKC's proven track record is vital because any grounding, for example, in the narrow channels serving Western Australia's Pilbara ports, could block a departure channel with significant economic impacts. It is estimated that the iron ore exported from Port Hedland alone, under DUKC® advice, contributes about 2% of the national GDP.
These customised systems have enabled shippers such as BHP, Rio Tinto and Fortescue Metals Group to achieve record export tonnages from the ports of Port Hedland, Dampier and Cape Lambert.
OMC continues to work in partnership with Pilbara Ports Authority (PPA) and last month, on August 22 and 23, under DUKC advice, a new 24-hour throughput record was recorded over two tides and 14 ships.
The new record of 2,478,219 tonnes was 79,796 tonnes more than the previous record of 2,398,423 tonnes which was recorded on June 2 this year.
In the international waters of Torres Strait, OMC's DUKC technology – commissioned by AMSA and operating since 2011 – has been tested in successful deep-draught trials over the last two years, resulting in trial Rio Tinto bulk ships transiting deeper than the current maximum draught limit of 12.2m.
Latest News
(Posted on 20/03/23)
Thordon Bearings is supplying its grease-free, self-lubricating ThorPlas-Blue bearing material to a... Read more
(Posted on 20/03/23)
French water treatment specialist BIO-UV Group has appointed Laurent-Emmanuel Migeon as its new Chairman... Read more
(Posted on 07/03/23)
With Wärtsilä's CII Dashboard, Anglo-Eastern is now able to make better informed decisions... Read more
(Posted on 07/03/23)
Bruks Siwertell has completed the commissioning of two large-scale Siwertell ST 790-D-type ship unloaders... Read more
(Posted on 28/02/23)
A consortium including technology group Wärtsilä has secured European Union funding to develop... Read more
(Posted on 28/02/23)
Bruks Siwertell has received an order for a next-generation Siwertell road-mobile ship unloader from... Read more
(Posted on 24/02/23)
Global Survival Technology solutions provider Survitec has introduced a new, formalised pre-inspection... Read more
(Posted on 24/02/23)
The slightest deviation in the machining, polishing, and finishing of ships' propeller blades... Read more
(Posted on 20/02/23)
Bühler expanded its business and improved profitability in an uncertain and volatile business environment... Read more
(Posted on 20/02/23)
Wärtsilä plans to further focus on end-to-end voyage optimisation and to move part of Voyage... Read more