DNV and AL Group to cooperate on CCS feasibility study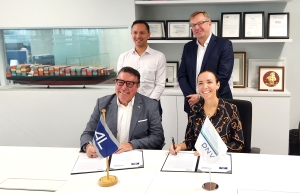 (Posted on 05/11/23)
Classification society DNV has entered into a Joint Development Project (JDP) with AL Group and its Singapore company Asiatic Lloyd Maritime LLP to explore the feasibility of carbon capture and storage (CCS) on board AL's Kamsarmax bulk carrier newbuildings and 7,100TEU containerships.
Under the JDP, DNV will cooperate with AL on a techno economic study of CCS on board the vessels using DNVs FuelPath to assess the economic potential of the different fuel and technology strategies. The model will reflect a range of fuel and CO2 price scenarios and future decarbonization requirements, aligned with AL's own net zero ambitions.
"At AL Group we continue with our unwavering journey on sustainability and efforts on decarbonization. This Joint Development Project with DNV allows us to explore actively, the adoption of carbon capture technology for our future fleet, while fortifying our commitment to environmental stewardship, emissions reduction, and innovation", said Tonci Zdunic, Group Fleet Director of AL Group.
Adding to this, Cristina Saenz de Santa Maria, Regional Manager South East Asia, Pacific & India, Maritime at DNV said, "It's becoming increasingly important for shipowners to look ahead and embark on a decarbonization strategy that allows for regulatory compliance and optimized operations. To this effect, we are delighted to be partnering with AL Group to explore cost-effective fuel strategies that would support their net zero ambitions. Backed by DNV's experienced global network and team of experts in the Maritime Decarbonization & Autonomy Regional Centre of Excellence in Singapore, we are in a prime position to help the industry navigate the maritime energy transition in a safe and efficient manner."
DNV published new guidelines for the safe installation of onboard carbon capture and storage (OCCS) system on board ships earlier this month. This comes amid growing pressure on the shipping industry to develop effective technologies to reduce emissions by 2030.
DNV is the world's leading classification society and a recognized advisor for the maritime industry.
AL Group operates under the names Asiatic Lloyd in Singapore and Atlantic Lloyd in Hamburg and represents the shipping activities of the K.F. Bunnemann family. Originally founded in 1857 as a ship agency business named 'Herm. Dauelsberg", the family have owned commercial vessels since 1887. Today the Group is run by the 5th generation of the Bunnemann family and owns a fleet of over 40 modern container ships, bulk carriers, product tankers and car carriers.
Latest News
(Posted on 07/12/23)
ClassNK has issued Approvals in Principle (AiPs) for four cutting-edge ship designs developed by Marine... Read more
(Posted on 07/12/23)
A smartship partnership bringing together ship management company Laskaridis Shipping, digital technology... Read more
(Posted on 07/12/23)
ABB has launched a new digital tool allowing shipowners, operators and designers to estimate the emission... Read more
(Posted on 03/12/23)
The Dry Bulk and LNG segments have borne the brunt of restricted transits, particularly due to their... Read more
(Posted on 03/12/23)
Columbia Shipmanagement (CSM) is set to further boost operational efficiency on its vessels, as crew... Read more
(Posted on 26/11/23)
Shi.E.L.D. Services has selected Spinergie as its preferred digitized solution provider to monitor and... Read more
(Posted on 26/11/23)
Thousands of cadets and trainees in India will benefit from in-depth wellness training and support thanks... Read more
(Posted on 17/11/23)
As shipping continues its journey to decarbonisation, INTERCARGO will host a special forum in Athens... Read more
(Posted on 13/11/23)
INTERCARGO was deeply saddened and concerned to hear of the reported appalling missile attack on the... Read more
(Posted on 13/11/23)
A new-look Wellness at Sea Awareness Campaign for seafarers, their families and shore staff that &ldquo... Read more