Diana reports Q1 results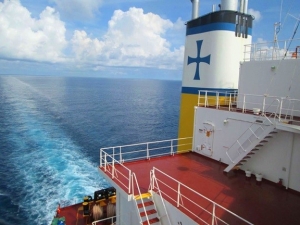 (Posted on 14/05/19)
Diana Shipping Inc., a global shipping company specializing in the ownership of dry bulk vessels, has reported net income of $3.0 million and net income attributed to common stockholders of $1.5 million for the first quarter of 2019, including a $4.8 million impairment loss. This compares to a net loss of $3.1 million and net loss attributed to common stockholders of $4.5 million reported in the first quarter of 2018.

Time charter revenues were $60.3 million for the first quarter of 2019, compared to $48.4 million for the same period of 2018. The increase in time charter revenues was due to increased average time charter rates that the Company achieved for its vessels during the quarter and was partly offset by decreased revenues due to the sale of two vessels in December 2018...
As of May 9, 2019 Diana's fleet consists of 45 dry bulk vessels (4 Newcastlemax, 14 Capesize, 5 Post-Panamax, 5 Kamsarmax and 17 Panamax), as well as one Panamax dry bulk vessel, the ''Erato'', that has been sold and expected to be delivered to her new owners at the latest by 10 June, 2019.
As of the same date, the combined carrying capacity of the fleet, including the m/v Erato, is approximately 5.5 million dwt with a weighted average age of 9.25 years.
Diana's vessels are employed primarily on medium to long-term time charters and transport a range of dry bulk cargoes, including such commodities as iron ore, coal, grain and other materials along worldwide shipping routes
Latest News
(Posted on 03/12/23)
The Dry Bulk and LNG segments have borne the brunt of restricted transits, particularly due to their... Read more
(Posted on 03/12/23)
Columbia Shipmanagement (CSM) is set to further boost operational efficiency on its vessels, as crew... Read more
(Posted on 26/11/23)
Shi.E.L.D. Services has selected Spinergie as its preferred digitized solution provider to monitor and... Read more
(Posted on 26/11/23)
Thousands of cadets and trainees in India will benefit from in-depth wellness training and support thanks... Read more
(Posted on 17/11/23)
As shipping continues its journey to decarbonisation, INTERCARGO will host a special forum in Athens... Read more
(Posted on 13/11/23)
INTERCARGO was deeply saddened and concerned to hear of the reported appalling missile attack on the... Read more
(Posted on 13/11/23)
A new-look Wellness at Sea Awareness Campaign for seafarers, their families and shore staff that &ldquo... Read more
(Posted on 05/11/23)
Classification society DNV has entered into a Joint Development Project (JDP) with AL Group and its... Read more
(Posted on 31/10/23)
Samsung Heavy Industries (SHI) and leading classification society DNV have inked a Memorandum of Understanding... Read more
(Posted on 31/10/23)
WISTA International, during its Annual General Meeting (AGM) held in Montevideo, Uruguay, on 25 October... Read more